June 27th, 2011 by: cheyenne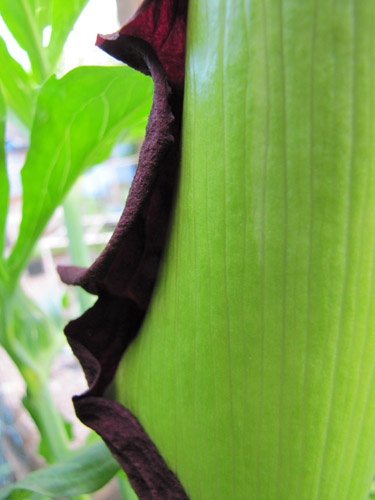 We had these crazy plants spring up out of nothing right after we moved in. They grew insanely fast and had cool succulent-like speckly patterned stalks and wavy fanned leaves. The neighbor told us to "pull it out; the flowers smell really bad." We have one in the front next to our steps and if I pulled it out, it would have revealed the unattractive rhododendron stump and some ancient paint chips, probably loaded with poisonous lead. I made the conclusive choice to leave the plants be when I saw baby ones at a local nursery. I figured that if people paid big bucks for the things, they have to be good.
They grew tall. They grew lushly. Then they started to form long flower spikes. OH BOY!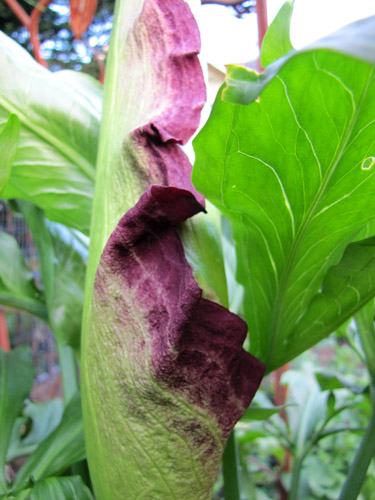 Very body-snatcher looking.
And finally, it opened!
I at last looked them up and they are Dracunculus Vulgaris, commonly called "Voodoo Lily," among many other names (that's the coolest so we'll stop there). The flies, as you can see, love them.
And it really does stink. Everything I've read about them say that the smell lasts a day and then goes away but they lie, unless there is another bloom hidden in the foliage there somewhere. It's been days and I still catch wafts of it now and again from across the yard. It does savage battle with the neighbor's giant honeysuckle on a nightly basis (planted, no doubt, to counteract the decaying varmint smells coming from my yard). I thought about cutting off the drooping flower but then I saw how it was supposed to mature into these big orangy berry things, and now I have to wait it out. The one by my front door just went off yesterday so we've kept the door shut. The mail lady probably thinks a raccoon croaked under my front porch.
In very pleasant-smelling flowerdom, allow me to introduce the pale pink/yellow peony:
which smells awesome, and the dark pink, which smells curiously like chocolate peppermint: