June 9th, 2011 by: cheyenne
So, the bathroom didn't kick our asses hard enough so we decided it was time to rip out the kitchen. Who needs to eat, right? Besides, this one will be super easy because we won't have to rip out any of the walls.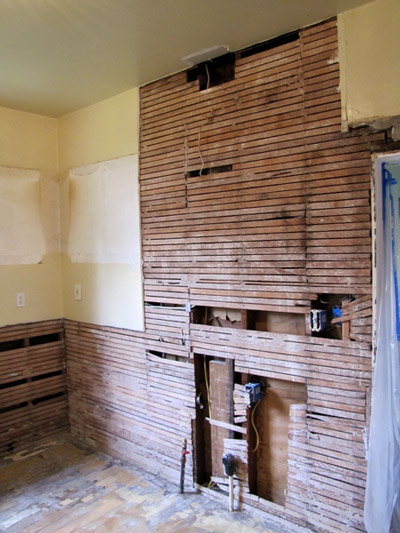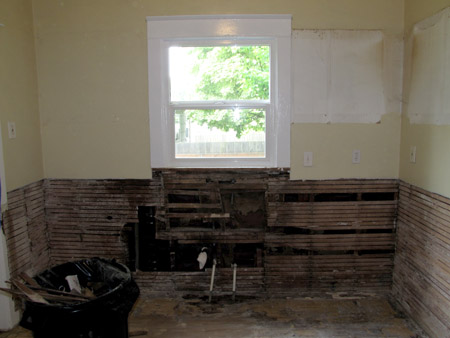 Right.
And the floor will be totally low-key because instead of putting in something new and clean and brand new and fresh and easy. Probably really easy.. We I decided that the douglas fir likely to be underneath would be much cooler if we refinished it. Seriously, imagine: One HUNDRED year-old doug fir, trees felled by burly dudes with hatchets and blue oxen or somesuch right there on our very floor. We just can't cover that up.
We chipped out the old, ugly, poorly laid tile, which was a pain in the ass. We then pried up the cement board underneath it (a bigger pain in the ass, plus carcinogenic and all that good stuff). Then we had to remove the gnarly looking plywood sub-flooring held in place by no less than eleventy frillion two-inch screws. We'd remove screws until our eyes bled and our backs were surely crippled, then try to pry up the piece, and lo! One lone little fucker holding it down somewhere.. We'd hunt around until we found it, then kill it with fire and all that, and again try to pry up the piece (triumphant at la-). But no! Blast!! Another bleeding screw somewhere. It was not pretty. We got it all up in the end though and here's what we beheld:
Hmmm. Rustic.
But fossilized mortar is no deterrent for the Optimistic One and I was all "Suh-WEET! This is going to look GREAT!" Joshua, ever the skeptic, was skeptical.
I rented a big sander from Home Depot and fired it up with some 24 grit, which is seriously like three or four good-sized boulders glued to a swath of tough paper. It's scary.
Then of course there was a lot of filling required. We used up two large containers of the stuff because it kept sucking down into the floor boards. I couldn't figure out where it was going. It just disappeared and we put more on top. The end.
It looked really awesome and I was super optimistic all over again when confronted with this spectacle first thing in the morning.
But it finished out to look like this: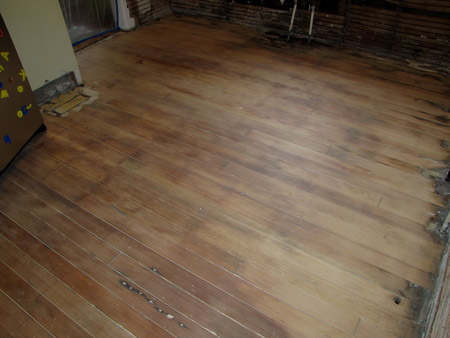 And after applying only the first round of floor finish (it will have four-five layers in the end; five probably, because I'm crazy), this:
DAMN SAM! I'm satisfied. Now we can work on those walls.