September 30th, 2011 by: cheyenne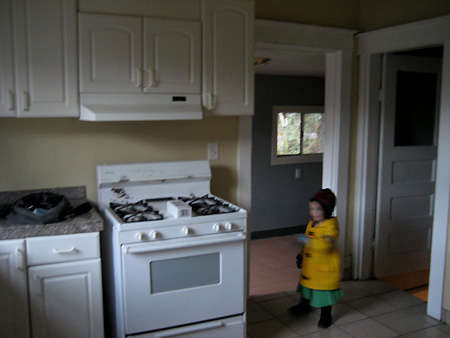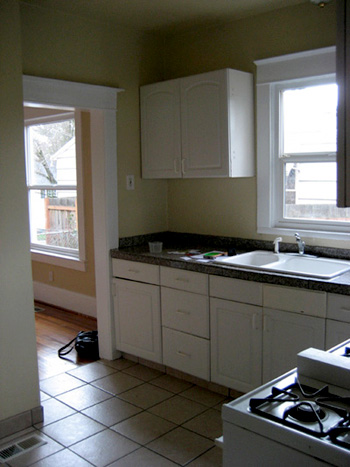 Some before photos of the kitchen. People were telling me (people who had never seen it in person, that is), that the kitchen didn't seem so bad. And it wasn't as bad as the bathroom or anything, but I pretty much had it in for the kitchen from the moment I laid eyes on it. I hated the floor tile, I hated the counter tile, the cabinets were all too small and just funky, and the insides smelled like squashed ants. Even though there were no ants in sight. Squashed-ant smell drives me utterly nutballs.
I took a bunch of close-up photos to illustrate just how nasty it really was. Behold: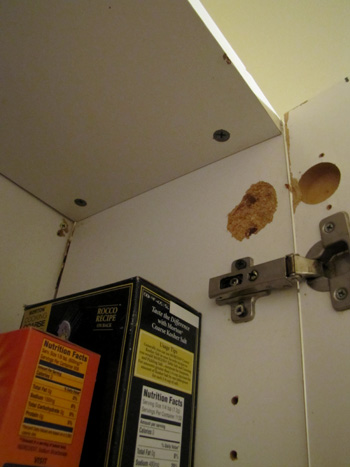 Ugly exposed smished particle board bits. These were in most of the cupboards. I guess at one point, the hinges ripped out and were re-mounted elsewhere..?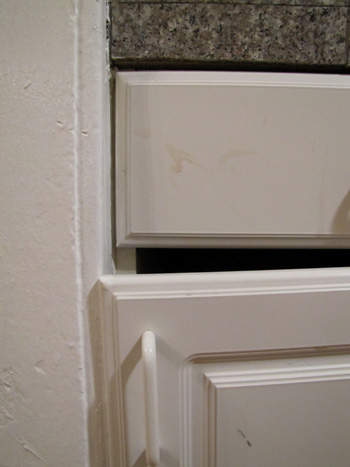 Nothing was square. (This is how this cupboard closed; it's not supposed to be ajar.)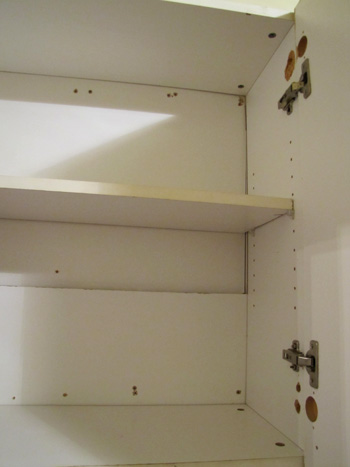 I have no idea what the story was on the back panels of the cabinets. It couldn't have possibly come like this, could it?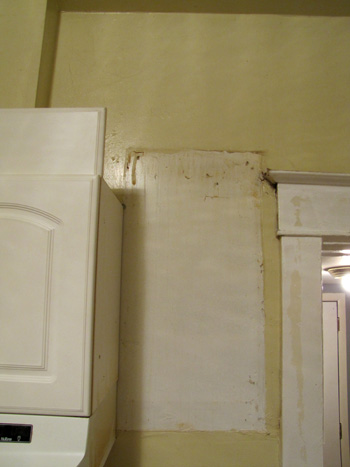 Oh look: greasy drippings behind the cabinets! How wonderful. I guess that wall has to go. Now, what do you suppose is behind the stove fan?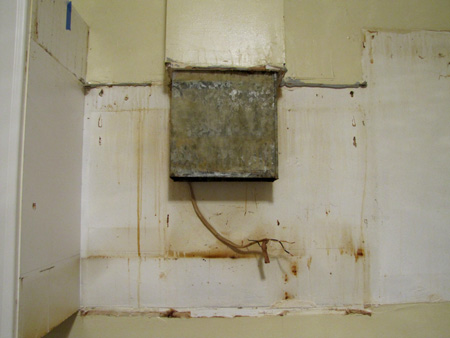 Mmmmm, tasty. When we removed the rectangular vent that went up to the ceiling, we discovered that the fan was actually just venting into the wall between studs. Not actually outside.
Seriously?
Demolition went fairly rapidly. It's easy to bust apart cabinets when you don't care about scratches. We took easily three tons of CRAPOMGWTF to the dump (had to rent a moving van to get it there). You do not even want to know how many mummified rats and mice we've so far removed from the innards of this house. Between this and pulling the ceiling down in the basement (did I mention?), Joshua expected to be stricken with hanta virus at any moment for a good 4 weeks (we did our internet research).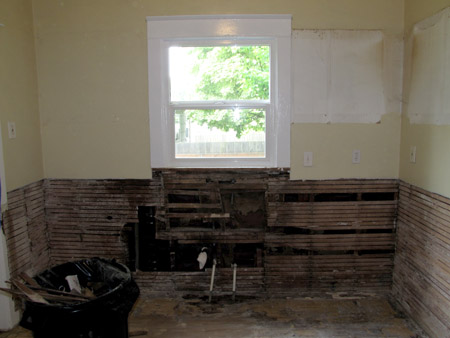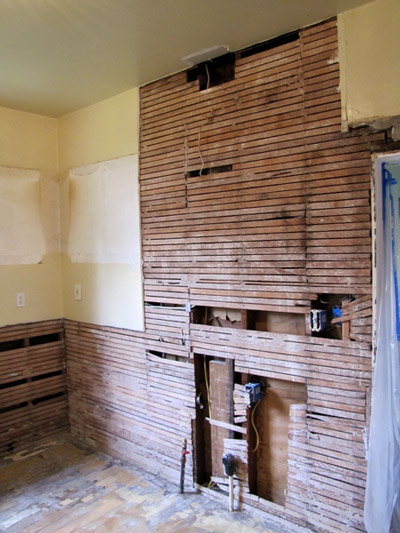 We initially thought that we would not have to remove any walls. HAAAaaaaaaa! Probably should have taken them all out but we're stubborn that way. Complicated keeps the mind snappy. It takes a something-something to blend new crisp sheetrock into 100-year-old uneven plaster. That something is Crazy.
We had our usual round of setbacks. I spent about four billion hours agonizing over the perfect turquoise color to paint the walls and what I picked out ended up looking freakishly kelly green in our house. I then spent about 3 minutes picking out the substitute and it was fine. Perfect, even. Joshua ended up starting a plumbing project that eventually encompassed the entire rest of the house just trying to replace a sink in the exact place the old sink was previously.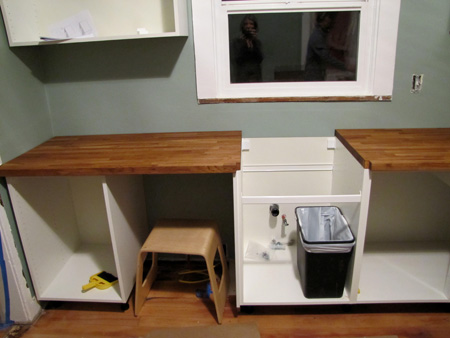 Here we've just laid the countertops over the lower cabinets. Suddenly there was an end in sight. That hole with the stool? That's where a mechanical DISHWASHER is going to go. And do you see those kick-ass wooden butcher-block counters? I DIE!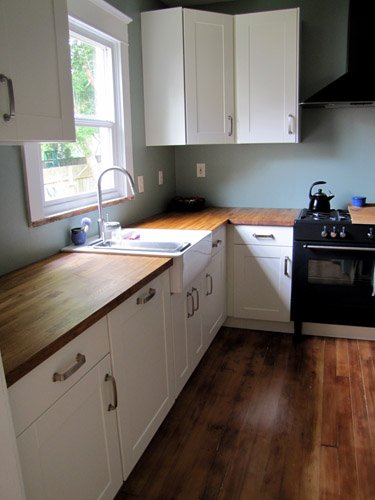 OH la la.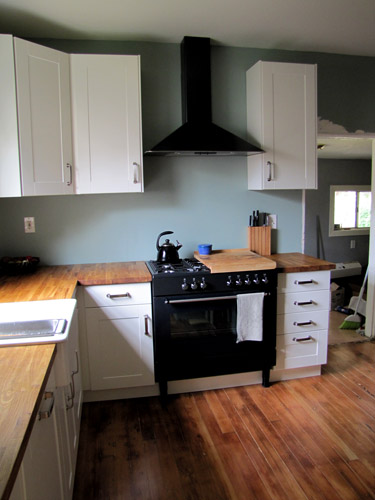 OH LA LA!! The stove is this crazy huge black monster that we didn't intend to get but randomly ended up with and now are SO HAPPY we did. It's the best thing I've ever cooked on: gas top, convection electric oven. And ventilation! HEAVEN!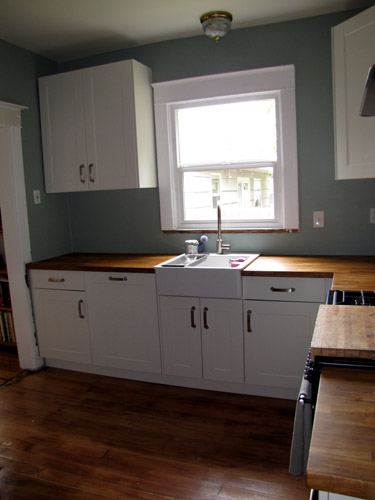 I would have liked to have cabinets that went all the way to the ceiling (even though we have to use a stool to reach the uppers as it is), but this was the best we could do. I plan to put little half-rounded shelves to the right of the window. I have a bunch of light-seeking little succulents and what-nots that want this space.
And the new shiny sink: I have lusted after that sink for years. I have a love/hate relationship with IKEA, but mostly love.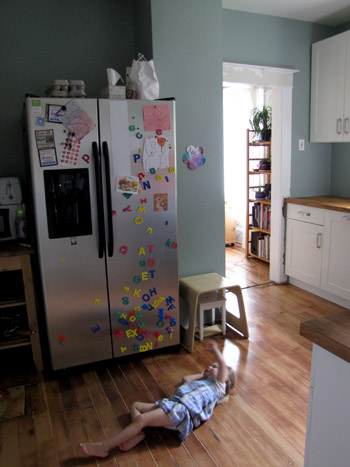 Here you see our crazy humongous steel refrigerator. I was lobbying for the tiniest refrigerator you could buy—preferably one that fit under the counter. We would then have an auxiliary freezer in the basement or whatever. Joshua wanted a big ol' side-by-side thing with cold-water jets and an icemaker. I won first and we ended up first buying a very small (but tallish) fridge, but it was freakishly loud and sounded like an irate flock of birds every time it kicked into gear, so we took it back. Then Joshua won and we ended up with this thing: it's one of the highest energy rated beasts out there and with all the rebates and tax whatnots and sales (we had an armory of coupons), it ended up being about the cheapest option. We win!
We eventually intend to add cabinets over the fridge and to the left, but were still figuring out what exactly we want.
Oh, don't mind my child; she's having a total fit on the floor.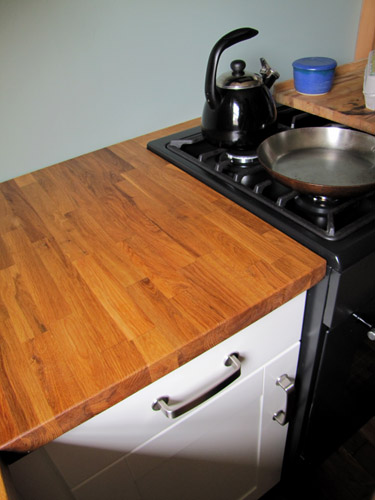 Oak countertops!!! I love them!