March 20th, 2009 by: cheyenne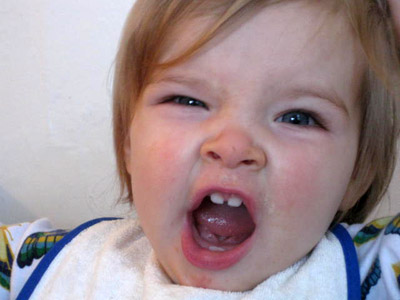 I think I can safely say there has been a major breakthrough on the sleeping front hereabouts. No, she does not sleep through the night (wakes usually twice to be fed) BUT she goes to sleep with minimal work on our part and after she is down, she usually does not need us to go in periodically and get her back to sleep. She just sleeps until she wakes up. To nurse (sigh). But still, this is seriously heaven. She is also going longer on her first sleep cycle and hopefully the trend will continue until she sleeps the entire night. Sounds brilliant right? Of course that means that if things continue at the pace they have gone since birth, she'll be three years old before that happens.
Still, things are looking up immensely. I haven't yet recovered from the year of broken sleep; I find myself waking after only four hours and unable to fall back asleep until she starts squawking for milk. Then of course it takes me ages to fall back asleep after I nurse her so unfortunately I have only been getting marginally more sleep than I had been getting. Presumably I'll be able to sleep eight hours in a row again.
I with I could say there were similar breakthroughs in her eating habits but I will say that tonight I almost was worried because she actually DID eat. We're talking: four slices of sauteed zucchini (minus the rinds), three slices of cheese more or less (less = what ended up on the floor), around a tablespoonful of leftover Indian food, a jar of baby food approximately (dolled up with ranch dressing of course), and three slices of orange. Seriously, she NEVER eats so much. I was astounded. Her belly actually felt full afterward. I don't know what got into her.
I have had half a mind to film our little eating sessions because they are so sad and depressing generally but I haven't gotten around to it. So here's a little rundown of the typical scenario. It'll be noon and she'll have only eaten two spoonfuls of yogurt since she awoke (not counting nursing). I'll announce in a faux-excited voice that it is Time To Eat Yay Food Oh Boy and pick her up to put her in the highchair. Immediately she'll begin to cry piteously, struggling and arching her back. It takes me some doing to get her fastened in the chair and the tray attached and by this time she has tears running down her cheeks and is rubbing her head with both hands (she does this when she is upset or very tired) and just completely fallen apart. I always feel awful but feeding her anything but cheerios and dried fruit is not possible when not in any sort of restraining contraption. So I put her in the chair. Now that she's stuck, I dance around with food options: Cheese?! Nana!? I start to put stuff on her tray and she either smashes it with her hand or swipes it off. Since I totally don't have a problem picking food up off the floor and feeding it to my child, I replace it and hope for a second (and third, and fourth) try. I make faces and bounce around and act like every single piece of egg or macaroni or banana or cracker is the abso-fucking-lutely BEST thing that EVER existed in the ENTIRE planet. I give her my undivided attention and cheer her on every time she even hints at making a move toward her mouth. I eat my own sympathetic lunch, hoping to inspire, offering her bites of whatever it is I'm eating (rejected, typically, unless it's the last bite and then she'll eat it with gusto and cry out for more). I try ignoring her and washing dishes instead, sneaking peeks in hopes that she'll have finally focused on what is in front of her and taste something already. I fix her a shocking array of different things and put them on her tray one at a time in hopes that she'll find something that doesn't offend.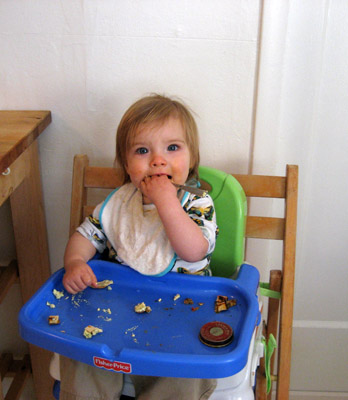 Eventually a shred of food makes it into her mouth and she realizes that maybe it's not the worst fate there ever was just to eat a a little bit after all. Provided it is not green. Or nutritious. And preferably it has sugar as a primary ingredient. It's really quite sad; she will happily eat pieces of cookie until the cows come in but treats anything vegetable with outright suspicion. Our latest trick has been to put dollops of ranch dressing on whatever it is we want her to eat. She will lick it off and we can only hope a molecule of the good stuff is ingested. Anyway ranch dressing has wee flecks of green so she's getting some vegetables at least.
Ronin signifies that the "meal" has ended typically with an abrupt return to her former crabbiness. To be sure I understand that she is finito with all the stuff on her tray, of which she has usually only eaten a small fraction, she systematically swipes the remains onto the floor and begins to rub her (ranch dressing/Toby's tofu pate/chorizo-covered) hands into her hair while whining and crying. I remove her from the Chair, wash her hands in the sink (dislikes), wipe her face off (dislikes extremely), and turn her loose. In the end, I'm totally frazzled and exhausted; I survey the destruction and begin the clean up.