Thursday, November 29th, 2012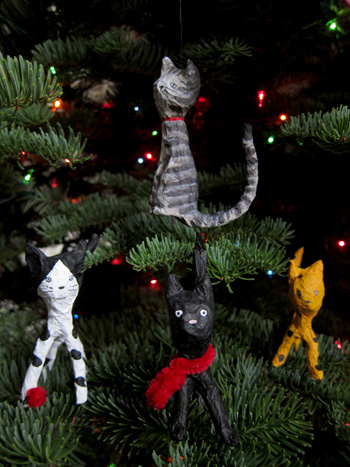 Ronin is cat obsessed. She dressed as a cat for halloween (Jiji from 'Kiki's Delivery Service')—in fact, she dresses near-daily in the cat outfit. She is also Christmas tree-obsessed, so every year we get the tree as soon as humanly possible. She then spends about all her time underneath and behind it, organizing the bottom tiers of ornaments into unusual collections and shoving her dolls and stuffed guys deep into the foliage.
Every year I make a handful of new ornaments and this year's collection is based on her favorite cat books, Jenny and the Cat Club
, by Esther Averill.
So far, I've managed to finish only four of the main characters. Ronin abandoned the project after about five minutes; winding the limp paper mache around the tiny figurines was absurdly tedious. She stood next to me instead and plotted out which character I was to make next.
Jenny Linsky! She's around 3″ tall.
Checkers & his retrieving ball!
Edward Brandywine!
Pickles the fire cat! I need to make his little firecap.