June 15th, 2009 by: joshua
It's
pedalpalooza
and there are dozens of rides and gatherings every day. We haven't been on a bike with Ronin yet, but I finally ordered a kid carrier and helmet for her so we should be on the road by the end of the week. She's still pretty small so we decided to start with the ibert and move on to a trailer or maybe an extracycle when she gets too big for it.
Anyway not having a way to transport Ronin, we drove to Cirque du Cycling, which is pretty lame I know. We watched the parade, met with friends, juggled a little, and left when Ronin started to get grumpy.
1 candle power
This trike is pedaled with a running motion. A few other bikes in the parade were built by the same person including the wolf bike below.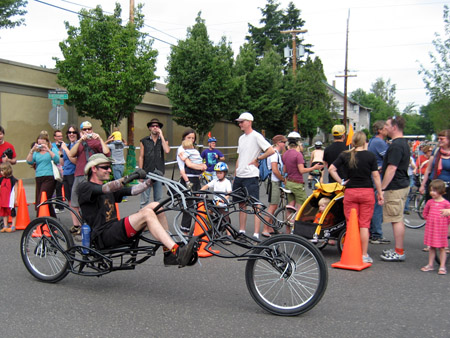 Wolf Bike.
There are lots of home built tall bikes in this town.
Whenever bikers gather in Portland on a sunny day you can bet it won't be long before a bunch of naked riders show up.
Aphex Twin?
The parade was followed by Criterium races. We watched the warm up laps but had to leave before the start because Ronin just couldn't take it anymore. I liked watching this guy on the rollers. Going full speed on that looks pretty scary.