Tuesday, January 30th, 2007
Every year, the town of Boquete has a Feria de las Flores y el Café and thus kicks off a season's worth of non-stop festivals and drunken disco-blaring parties all across Panama. We headed out with the Panamian cousins (Tito and Rachel) on a road trip for the Boquete one.
First order of business on a road trip: snacks. And beer. The road trip snacks of choice were empanadas from the roadside quesa place and something called 'choripan.' We had to shun the previous favorite roadside queso place because a recent expose revealed that they carelessly dumped their cheesy byproducts in the stream behind the building and now it was a fetid mess of evil-smelling vileness. They were to be shut down soon if they didn't shape up. We stopped instead at the rival queso place for the empanadas and then headed on for the choripan. The choripan place had a startlingly disturbing logo.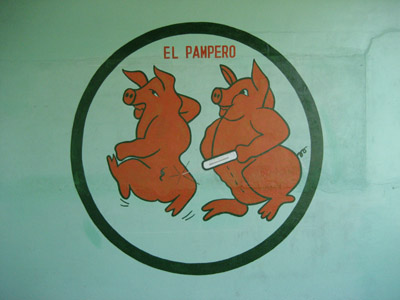 Choripan came in two styles, Spanish and Argentinean, and were hot doggish in strategy with a piquant sausage lodged in a bun and drizzled with salsa brava if you went Spanish, Chimichurri if you went Argentinean.
We stopped at a different roadside cantina at one point to do a little Panamanian Cantina Bathroom research (verdict: it had possibly never been cleaned since it was constructed, the toilet had clearly not been flushed in a long, long time—no water—and relied on gravity to keep at an appropriate level, there was a collection of dead beetles the size of kumquats in one corner, but by god there was toilet paper—I still used my own). While drinking a beer we chatted for a bit with one of the two guys at the bar. He was fluent in advice for hotel staying, Boquete, and general traveling in the region. "Dangerous road between David and Boquete, you have to be careful," he told us. "Why, is it curvy?" "No," and he looked after Tito who had just headed off for the bathroom, "JOVENES!" he whispered. (Youths!) We all glanced suspiciously about us while waiting for Tito. After promising to be careful, we bade farewell.
Any hotel-booking optimism we may have had was quickly and painfully shot down once we arrived in Boquete after dark and hostel after pension after hotelito was either full or absurdly expensive. Or else the door was answered by a jumpy shotgun-weilding parolee type, kids crying in the background, and the room already rented anyway, which you know was really a shame.
In the end we stayed in a nice place and paid a bit more than we had planned but we were happy not to have to drive back down the hill to David. We headed out to the festival, and being used to American-style fairs where the food and booze are always marked up in price by 2000% or so, we were sure to stop by the minisuper for a flask of rum to smuggle inside.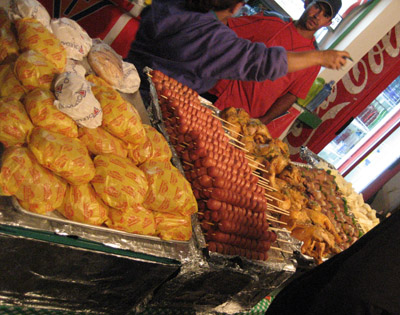 Naturally, we needn't have bothered since only in the US are captive-audience prices outrageous; food prices were pretty much normal. Food selection was irritatingly homogeneous though: hamburguesas, chicken with yucca, skewers, patacones (fried green plantains, smashed flat), and spirally hot dog things.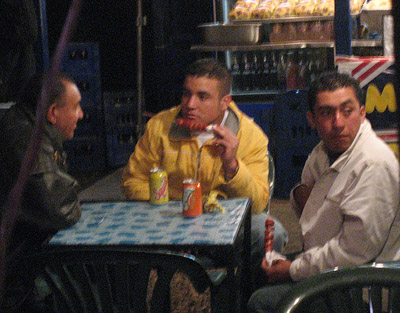 Here is a grainy photo of some mafia types actually eating the spiral dogs. Note Whitejacket here looks like he is about to spike his soda with some smuggled-in homebrew.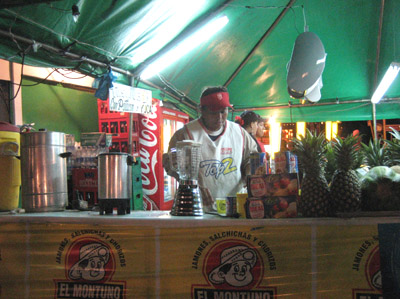 Here's a food stall. Note the mouth-watering display of tinned fruit cocktail or whatever. The stall is mostly staffed with no-nonsense food booth types but if you order beer, they defer to the 'sexy' beer girl in the skimpy skirt busting out of her metallic halter top who is standing around freezing her ass off (we're in the mountains where the temperature reaches down to the sixties sometimes). I ordered a beer from one of the no-nonsense types but she sort of waved me off like maybe the bottles in the fridge behind here were only for show, then took about ten seconds getting the attention of the Sexy Beer Chica, who then retrieved one of the bottles and instead of handing it over the counter to me, walked it out to my table (me following behind all confused). Service with a clenched-teeth smile.
The remainder of the flower and coffee fair (night-time) was fairly boring. Mostly it was a lot of people-watching action; the actual flowers were nice but not exotic for someone who comes from a more temperate climate (e.g., large plots of petunias and zinnias). Duran Coffee sponsored the coffee part of the festival and so that was the only variety available and it was dispensed, quaintly, into styrofoam cups from large industrial metal spigot jugs (like in the above photo on the left). As far as the smuggled booze goes, turns out that they sell bottles inside, which was convenient since it took us all of ten minutes to empty the first one.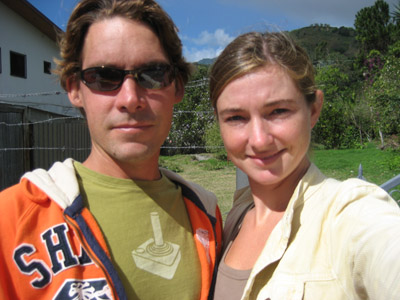 Here's us the next morning, still on boat time, we got up at the crack of dawn and spent a few hours wandering around town before Tito and Rachel got out of bed. Note that we are wearing JACKETS. There's nip in the air, by god.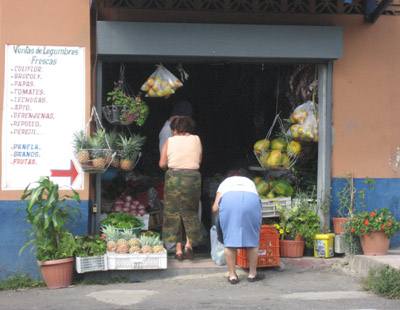 Here's a photo of some Panamanian Mountain Butts participating in some vegetable provisioning.
We found a sign indicating a narrow rutted road saying "Vulcan Baru 12 km" so we decided to head there for the day. Along the way we passed coffee plantations and the locals who worked on them. The women wear brightly colored voluminous muumuu-like dresses accented with contrasting wavy ribbon (I forget the name of this stuff).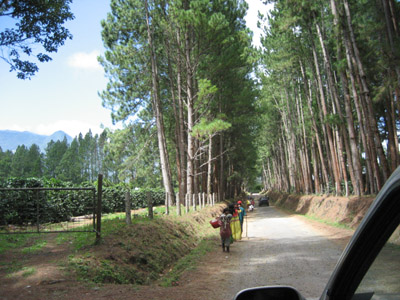 At the top of the 12-kilometer dirt road was a small booth with a sign that told us that the volcano was in fact an additional 13 kilometers farther and the road situation deteriorated drastically. It also said you had to pay to enter by car or to park if you walked in but since there was nobody around, we parked and walked in for free.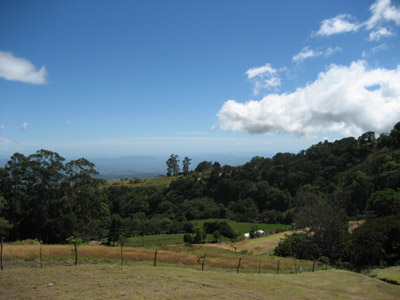 The road was steep and difficult to even walk upon it was so rutted. Up about a kilometer, we could see all the way down to the river delta to the ocean. The sky was intensely blue here and the clouds, bright white.
We headed back down after a small picnic stopping to chat briefly to a gaggle of little kids who mobbed the car with cries of "Galleta! Galleta!" (cookies/crackers!) We drove down to the last tienda we had seen and picked up some galletas, then headed back up to the kids where we dispensed the cookies, some dulce de leche candies we had, and some small sandwiches we made with the remainder of our picnic supplies. Farther down the road, we ran across one more little girl who also wanted galletas but we were cleaned out of food except for a couple of anchovy olives (which we let her have). She tasted it with the tip of her tongue (clearly NOT a galleta) and then looked strangely at us. As we headed on, we saw from the rearview mirror her brother come out and take the olive away from her but he also didn't know what to think about it.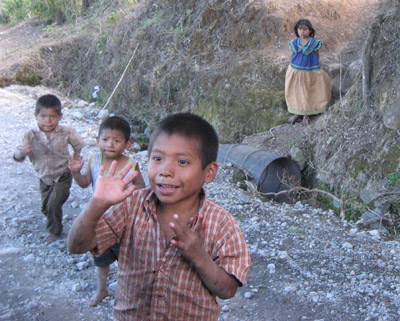 We got back to town and headed back towards Panama City with the plan of stopping for the night at one of the beach towns. Once again, we arrived well after dark and all hotels were full so we ended up driving all over the place asking here and there to find a place to sleep. It was after 11pm when we finally find a dour little hotel that just happened to be attached to a large cockfighting gallery/bar so once we got settled, we went out to check out the local testosterone [more on this in another post].
Next day we dragged out of the hotel (exhausted and still feeling like we had beer in us after the night before, which we did) to see some beach before heading on to Gorgona, where we visited Tito's family staying in a beach hotel (which they booked in advance). The hotel scene was centered around a large shallow swimming pool overflowing with children that had about ten-inch visibility. We politely declined a dip.
We got back to Panama City that afternoon with just enough time to get ourselves back to the boat and cleaned up before heading back out to meet Tito and Rachel for Rachel's going-back-to-work party. Thankfully it was a low-key evening because I think I am actually getting tired of beer.