August 19th, 2006 by: cheyenne
It had rained the day before and so the sky was very clear with quaint little puffs of cloud. This must be the third most photographed building in New York; we did our part.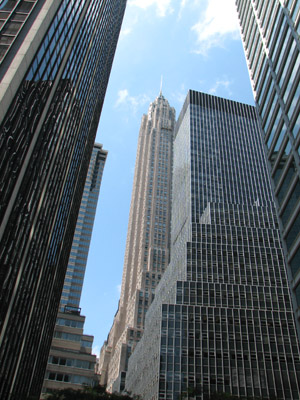 Big. Buildings.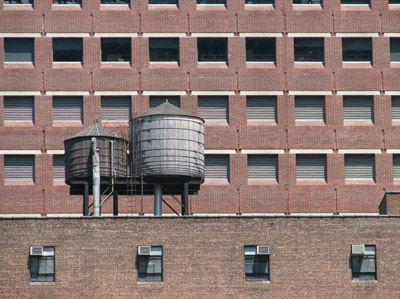 Scenic!
This has never been done before.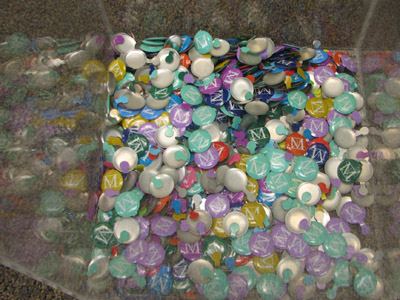 We had visited the Met on our first NY visit—twice actually—and had only dented a few sections. The Met is 'suggested donation,' with a big scary sign that suggests you donate $20. We had heard it was free and our plan was to swing by for a couple hours here and there during our stay but the suggested donation thing had us all bent out of shape. You know, not $20 since it was no longer early and we'd wasted precious hours already but not too little so they think you are a cheap bastard or something. Turns out the ticket girls could not care less about you or your suggested donation.
There was a group of mormons in the park giving free popcorn and Books of Mormon to passers by. One of them was attracting the attention of small children with some trippy utopian chalk art.
This is a 'corpse flower' (titan arum), which bloomed at the Brooklyn Botanical Garden a few days before we arrived. When we got there it was alone in a large room specially designed to keep the teeming throngs from trampling each other in their attempts to record the glory with their mini camcorders and cell phone cameras. The flower no longer smelled like dead bodies and the large sticky uppy had fallen over. It was pretty awesome nonetheless.
(Botanical drawings by Nancy Blum, also at the BBG.)
We saw an Broadway play called The Lieutenant of Inishmore. I enjoyed it but I have to say the New York Times and other reviews that were enlarged and posted in the windows of the theater were a little overenthusiastic. The play was touted as a 'screamingly funny' 'scathing' and 'gleeful,' 'gruesome,' dark comedy about an IRA-like splinter terrorist cell. So it was also controversial and stuff. Mostly it was about Irish accents, the word "feck," and dead cats.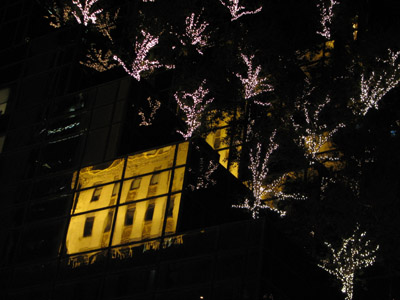 After the play we dissed the clamoring horse cabbies and walked under our own power up 5th Avenue, taking "art" photos of the window displays and night scenery.