For Sale – SOLD!
[Isla Danzante, Mexico, February 2006]
TimeMachine is a Jim Brown designed Searunner 31 A-Frame Trimaran. The builder (Joe LaGuardia) added a foot at the waterline after consulting with the designer. The extra foot gives a performance boost, but most importantly, some much appreciated room in the galley and settee area. It doesn't sound like much but it makes a big difference when you have dinner guests. The other conspicuous design modification is the forward cabin which comes to a point with two windows instead of the traditional rounded "cyclops" look. I think it gives it more of a racy star wars effect. During construction every effort was made to reduce weight. In fact, Joe claimed to be 1000 lbs under design weight by using foam wherever possible and by creating a clean minimalist interior. I've never had the boat weighed but I believe that she is light. Also, the boat was designed to have a remote tiller in the central cockpit, but we have binnacle wheel steering. I have mixed feelings about this. The binnacle mounted compass is nice, but it also takes up a lot of room in the cockpit.
TimeMachine was built in Nevada during the 1990's and first launched on Lake Tahoe in 1997. Built as a personal boat by a professional builder the quality of construction is outstanding. We purchased the boat in 2004 from the builder. I don't have a complete cv for Joe but I know he worked at a number of commercial yards in California including Kettenburg. TimeMachine was the 4th boat he built for himself.
[Lighthouse Reef, Belize, April 2007]
Designed as a cutter, the TimeMachine doesn't have the extra running rigging needed to fly a stay sail. I don't think the extra weight, cost, and complexity of the extra rigging would justify the tiny stay sail. The sail inventory includes a mainsail, 90% jib, 170% genoa, 150% genoa, a storm jib, and a 170% jenniker. The 170% genoa, storm jib, and jenniker are all nice. The others are well used, but usable.
It is powered by a new 15 hp tohatsu 2-stroke outboard with a 25″ shaft. We made the first 5000 miles of our trip with a 6hp outboard with a 20″ shaft. We were basically unable to motor except in the calmest conditions (Builds Character). However, we had to have a bigger motor to transit the panama canal. The 15hp motor will allow us to motor at over 7kts in calm water and the extra long shaft never cavitates except in the most severe conditions. It also has a 80-watt alternator to charge the batteries.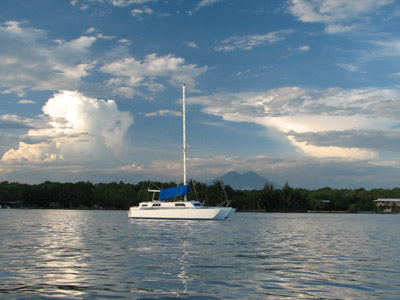 [Estero de Jaltepeque, El Salvador, September 2006]
Speaking of batteries. The two batteries total 130 amp hrs, but are badly in need of replacing. We found that the batteries and the 45 watt solar panel were adequate to supply our power needs as long as we didn't run the laptop computer or wheel pilot.
People always ask us how fast we are. Keep in mind that this is a cruising boat and an old design. It is fast for its era and faster than monohulls of similar length, but cannot compete in any way other than comfort and cost against a modern racing design like an F-31. However, with the extra foot of water line and lightweight construction it might be the fastest Searunner 31. Our fastest passage was Huatulco to Salina Cruz, Mexico when we averaged about 12 kts all day in near ideal conditions (18-20 kts of offshore wind on our port quarter).
We are now in the process of fixing the boat up for storage/sale. After cruising for more than 18 months, we are taking a break don't know when or where we will take it up again. We would rather have someone using and enjoying the TimeMachine then having it sitting in storage.
Delivery is available anywhere on the Gulf Coast or Florida (other locations maybe). This boat can be disassembled for trailering (8′ wide when broken down).
There are lots more pictures on the about pages and you can read about our entire experience on the blog. These pictures vary in age, but if you want an up-to-date photo of something just ask and we'll send one.
Since we are no longer in the area and won't be able to show it ourselves, we have turned it over to a broker. Dennis Fria from Mustang Island Yachts will be handling the sale. We will continue to respond to comments on this page and are happy to answer questions by email. However, for viewing and sales questions please contact Dennis directly at (361) 790-3935.
Here is a link to the yachtworld listing.
UPDATE:
The TimeMachine has sold! It was loaded on a trailer and shipped to her new owner on Georgian Bay, Ontario, Canada. We're a litte sorry to see her go, but we hope Donald enjoys her as much as we did.