Tuesday, April 28th, 2009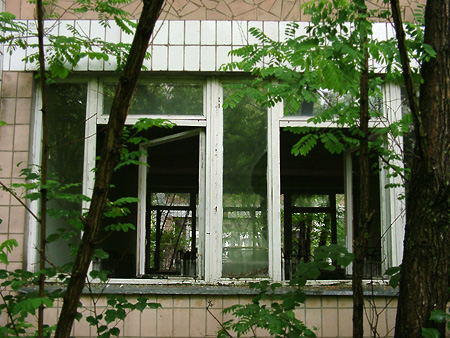 [You can click any of the images to see the larger version.]
In June of 2005, Joshua and I spent a month and a half in Ukraine and Russia, during which time we visited Chernobyl. I'm a little late with the write-up. Um, sorry about that.
I have always been fascinated with abandoned places. In Spain we were obsessed with Las Abandonadas—ancient rock houses in deserted villages that were sprinkled all over the country, their former inhabitants having either moved to the city or died. In Mexico, we searched out old towns that had emptied after the mines went bust or the money went elsewhere. In the US there are ghost towns (hanta virus! Gak), or more frequently, abandoned factories or warehouses, like those that used to be near my studio in San Francisco (inhabited only by bums and street kids). The places are mysterious, eerie, and very photogenic. A glimpse of post-apocalyptic, science fiction-style doom I suppose. Your imagination tends to run wild when in such places.
The Grandaddy of all the places we ever sought out was Chernobyl (Chornobyl in Ukrainian), the reactor meltdown site and surrounding 30-kilometer radius of no-man's-land, the "zone." The reactor itself was interesting and all but what is most fascinating to me is the history and politics surrounding the disaster, and the so-called "ghost town," Pripyat along with hundreds of small villages that used to exist inside the perimeter but that no longer do.
Getting to the Chornobyl site, in our experience, was actually pretty easy and took but a quick phone call to check our names against a watchlist of International Abandoned Nuclear Reactor Site Spies (or whatever it was they checked). There are a number of agencies in Kiev that arrange tours and they all compete with each other citing this and that difference—of course the prices vary wildly—and they make it sound like it is actually a very difficult and complicated process to get cleared to visit the zone. In addition, they all implied that they themselves did the tours. In the end however, they are all selling you the same thing because all tours within the zone are actually handled from within by a single state agency, Chernobyl InterInform. CII has one set price for everything and in our experience, they were efficient and expedient about processing requests. They pick you up wherever are, take you into the zone, provide a guide, give you a tour, feed you an amazing lunch, and drive you back home at the end of the day. So basically you can skip the Kiev agencies and arrange a visit directly through them. Our guide laughed when she heard the varying amounts we all paid our various agencies to come on the tour and the lines of bullshit we were fed. She said the Kiev Chernobyl Tour agencies are a total racket and I agree. But we did it because we only had one day in which we could fit the trip into our schedule and since that day had been reserved completely by the agency, through the agency we went.
We met up with the CII van outside a bank in Independence Square in Kiev. There were six of us tourists and a driver who spoke only Russian. The guy we sat next to in the van was a Scottish comedian from Serbia who had spent his entire vacation in the far eastern town of Dneprpetrovsk, a large dingy industrial city in the east that holds absolutely no interest for your average tourist. We of course thought he was crazy but then we had just spent a month living in Kharkiv, another large industrial city in the east that has no interest for the average tourist, and we had rather enjoyed ourselves. He had an incredibly high opinion of Bill Clinton (every Eastern European with whom we spoke politics, which is to say nearly everyone we spoke with, did) and an equally low opinion of our then current president, George Bush (as did every other Eastern European—and Western European for that matter). He told us that the purpose of his vacation was to gather material for his comedy act. I always wondered what he took away with him from the Chornobyl tour.
We got to the 30-kilometer checkpoint and stopped. Our driver chatted briefly with the guards. They looked over our passports (like, no big whoop), gave them back, and one told us something in some language that was not Russian or Ukrainian. We stared blankly at him until it was determined that he told us (in English, it turned out) not to take any souvenirs. We were all, OH OF COURSE NOT HA HA all smiles and waves, and then we went on.