Saturday, November 8th, 2008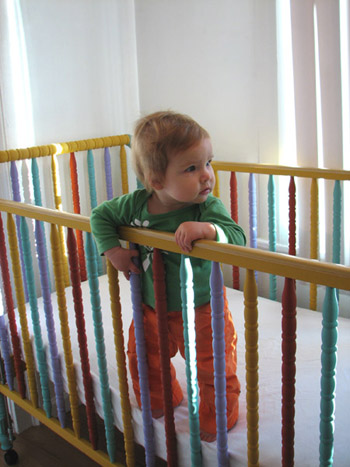 It should have happened months ago but finally tonight, Ronin is in her new crib, in her own "room." Of course, by new, I mean a used Craigslist crib, and by own "room" I mean the hall/entry way of our apartment, which we have cleared of crap (i.e., stacked it in the hall outside the apartment) and placed said crib, a couple of butterflies I picked up off the ground in Central America and framed, and soon-to-be little dressers in which to store all her wee little shirts (IkEA, but we haven't yet assembled them because all that crap I mentioned presses on the brain in such a way…).
And she is pretty much hating it. She sacked right out at 6:30 because that's when she normally crashes but was up by 7, fussing and sitting up. Soon she was all out crying and we tried to get her to settle back down but within five minutes, she was hysterical. Anyway, it took until 9 to get her to fall asleep for more than 5 minutes in a row and we're going on 20 minutes now and holding our breath and typing really quietly out here in the living room. And drinking (nigori).
Anyway, about the crib. We found one that wasn't HORRIBLE on Craigslist and I emailed the person who was selling it and fine it was mine but then she emailed back saying she had to clean out her garage to get to the crib. Then when she cleaned the garage, she couldn't find the hardware. So she was going to drop it by my place because the hardware was certainly just in the kitchen drawer and she'd find it in the morning. Then she had to go by Home Depot to get more hardware because she couldn't find the old stuff (she knew what it took) but was still going to drop it by. Then a couple of weeks went by. Then we bought a different one that was really cheap because it was really ugly. BUT, painted, it would be really cute. A project! OH YEAH!
Well, anyone who has ever painted anything ever even once in their lives (this includes us) would have been able to tell us that not only would those spokes be a bitch to sand, but it would be a bitch times 54. Because that's how many hard-to-sand-not-to-mention-paint-GAH spokes there were.
It took us over a month to get it done.
But it looks awesome.
[Looks almost like a "real" nursery.]
And Ronin so far hates it.
Sigh.