Tuesday, May 13th, 2008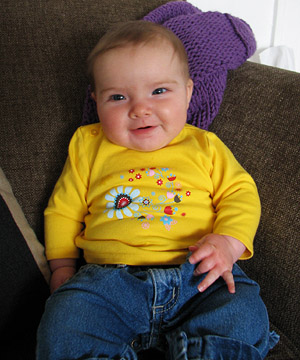 Some Milestones:
* LAUGHS!!! Oh this is funny stuff. No really.
* Reaches and grabs for things in front of her—her toys, my hand, hair, bottle of gin…
* Grasps target objects successfully (not gin) and navigates the treacherous route to the mouth without poking out an eye or skewering a nostril. I rest easier at night now. No, not really.
* Almost screams, sort of. (Boo!) She did this once and surprised herself; I saw the cranks turning in her little monkey brain and they were up to no good. I daresay she'll be an enthusiastic screamer in no time. Sigh.
* Eyes continue to lighten but more slowly now. They are about the same color as mine at this point.
* Cheeks = Bigger.
* Sucks on her bottom lip. This looks very silly and Joshua fears she'll end up with a permanently fattened lip from it.
[Ro sucking her bottom lip at the mouth of the Colombia River.]