August 26th, 2006 by: cheyenne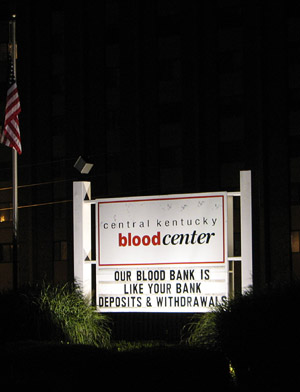 (Clearly the local Lexington Blood Bank was feeling the need to keep up with the Presbyterianses.)
If everyone we know isn't already totally confused as to where we are and whose wedding we went to, here's more out-of-order wedding stuff. This time the wedding was Joshua's cousin Jeff's and the place was Lexington, KY. We drove straight back to Kentucky from Cape Cod, stopping only once for a goggle-eyed walk through the sporting goods store 'Cabela's' in Pennsylvania, home to the majority of taxidermied wildlife in North America.
Our arrival heralded the beginning of a massive takeover of Jeff and Sarah's house and lives for the next five days. Parents and friends and friend's wives and husbands and husband's aunts and cousin's children started arriving right and left. Gratefully, generous amounts of bourbon and fried chicken were at hand, making introductions smooth and familial relations foggy.
Ezra and Miles practicing being bored during the wedding rehearsal.
Being bored for the real thing.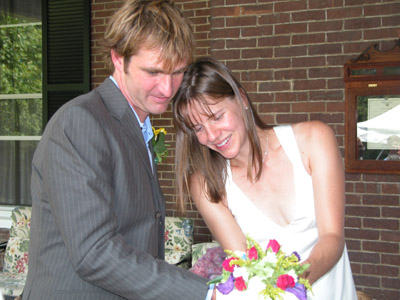 Cake cutting; the kids had recovered from their ceremony stupor and were highly alert for this part of the deal.
(P.S. If anyone is looking for a job; I think the Kentucky Inn is hiring.)
WTF