Saturday, March 19th, 2011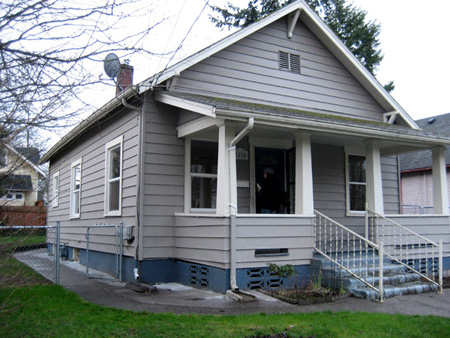 It all happened very fast. We viewed it and put in our offer the first day it got listed and our offer was accepted. We did inspections the following Tuesday, and the Tuesday after that, we had the keys! The whole process took 11 days.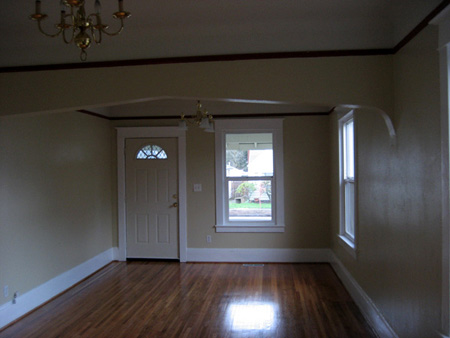 [Main living/dining area. Floors were just refinished and smell wretched; place needs some airing out. But the floors are beautiful! I'll be doing some painting, by the way. That maroon moulding is distracting.)
We've actually been sort of kind of looking for a long time. Almost a year ago, we had the winning bid on a house at auction. The auction guys were all over themselves the moment it closed giving us instructions: RACE to the bank and get a cashiers check for the earnest money, overnight it FASTFASTFAST or else face penalties and fines and bad credit ratings and an IRS audit and who knows what else. So we did and then we didn't hear anything from anybody for two weeks, when we got our earnest money quietly returned to us in the mail. Apparently the bank decided that they wanted more money than our winning bid and rejected our purchase. WhatEV! (Ironically, the house got relisted, went to auction again and the winning bid rejected, got relisted a couple more times and finally sold 9 months later for less than our original winning offer. We were so over that house by then.)
The next house looked pretty good except for a slight weirdness with the lot: the city seemed to think that it was only a half lot (the other half owned by some construction company) but the ad very specifically described a luxuriously large lot. We made a huge stink about it from the get-go and they assured and reassured and doubly-assured again (we really were pains in the ass about this point) that indeed it was in fact the entire lot, that the city was just behind in updating their files after the foreclosure, blah blah shut up already. They even sent us what appeared to be a title report that very plainly stated the property as being the entire lot and at last we had our offer accepted and did inspections. Then a few days later, we got the news that, um, yeah, there seems to be a problem with the title. We backed out. It was a complete waste of time and money and we were totally pissed because we had been asking about the lot since before we even went to go look at the property. Basically, what happened is the previous owner quietly split the lot and sold half to a construction company. Then foreclosed on the entire property (and Bank of America didn't do their homework). BofA relisted, again stressing how big the lot was. It was weird, like they knew all along and just hoped we wouldn't notice.
I guess that's what happens when you are hunting in the bottom of the barrel. It's you versus all the other loonbats out there. We do seem to draw more than our fair share of the absurd though.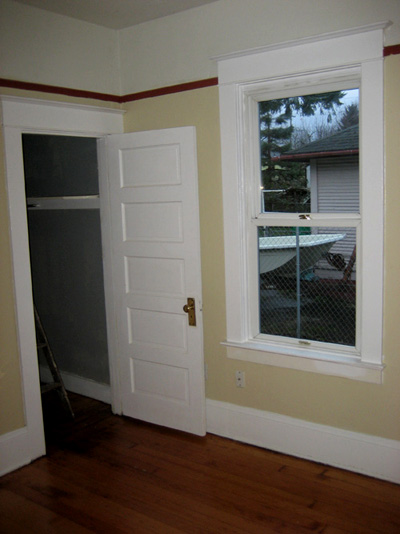 [Bedroom and hallway between bedrooms, bath and living area. Floors are refinished fir here.]
Finally we came across this house. We looked at almost all of the very cheapest houses Portland had to offer for a long time and this was the first place that was not actually gross, or needing epic fixes immediately. In fact, it was nicer, bigger, and cheaper than our current rental. We could just move in immediately if we wanted! It only took us a year and we went through four different agents in the process.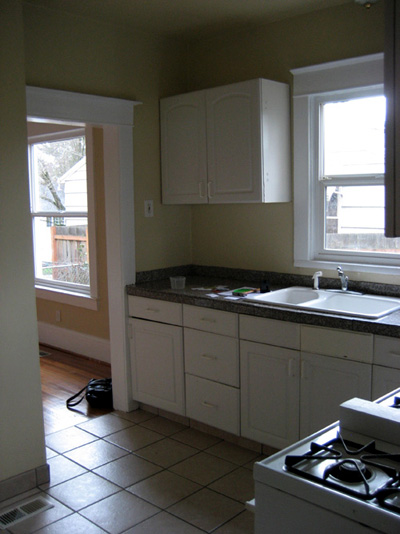 [In person, those cabinets are WAY ricketier and ill-hung and super crappy. They look almost decent in this photo but do not be fooled. The kitchen has to go.]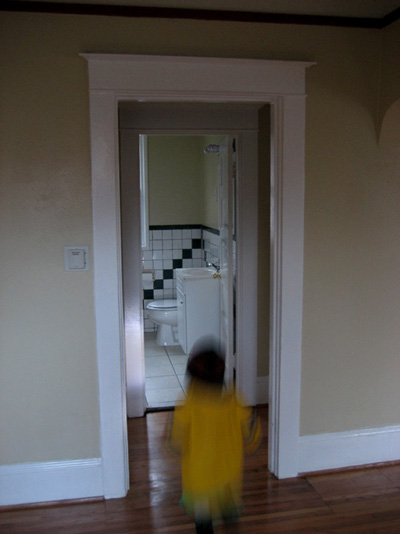 [This yellow blurriness, incidentally, is why we never have any good photos of Ronin anymore. She will not hold still for anything.]
So immediately upon taking possession of the place, I shifted into princess mode, bought about ten gallons of paint in ten different shades of beige/gray, and ripped out the bathroom (this is, after all, my big moment!). And now it looks like this: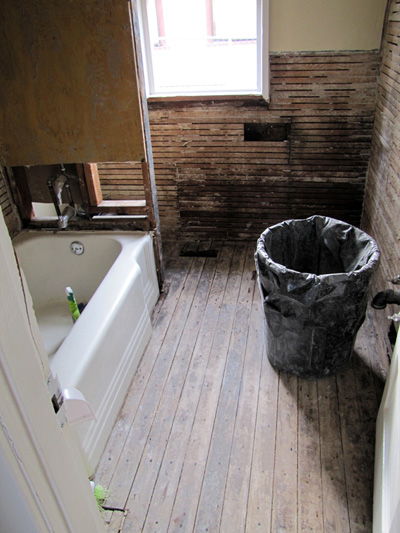 Now I just sort of want to put the walls back on again.