January 18th, 2011 by: cheyenne
The little monkey turned THREE! She was very excited about having a party and we actually ended up having two parties. Neither of them on her actual birthday. So I guess you could say she had three birthdays, one for each year.
On Friday I made a bunch of carrot cake cupcakes with cream cheese frosting and brought them to her preschool for afternoon snack. We played pin-the-bat-on-the-batbear (Cara, her preschool teacher, made an awesome batbear poster) and then had cupcakes. Silas asked what kind they were and I answered, "carrot cake on the bottom with cream cheese frosting." He looked at me like I was totally freaking insane and regarded the cupcake with some suspicion before touching the tip of his tongue to the frosting part. Next time a kid asks me what kind of cupcake it is, I say: "cake on the bottom and frosting on the top." The end.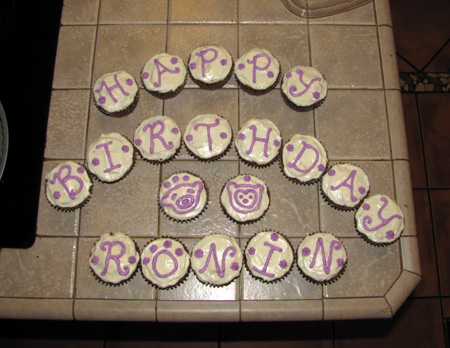 For Saturday, we invited way more people than our little house could reasonably hold (two families didn't make it so it ended up being perfect) and then made a whole bunch of food: pulled pork, tangy coleslaw, wild mushroom tart (for the veggies), and lemon cake with cream cheese frosting. We also made blueberry ice cream with blueberries we picked last summer to go with the cake, and salt caramel ice cream just because.
We bought a bunch of cool Playdoh colors (seriously, you should see what they have these days) and that was a hit, but what was really the bomb was screaming their heads off in the bedroom with the lights turned off.
"Dada! Be a MONSTER!!" and Joshua would don the blinky head-lantern thing and lurch after them with arms outstretched. Hilarity ensues.
Ronin needs to practice her blowing skills for next year I think.