January 26th, 2010 by: cheyenne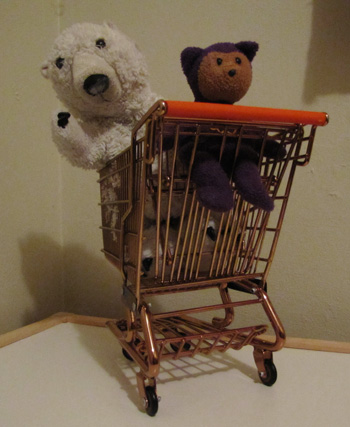 [Nigel and Batbear go joyriding in the shopping cart.]
If Ronin disliked sleeping before, it is nothing compared to how she feels about sleep now. She ignores, fears, hates, and tries her damnedest to avoid sleep and her loathsome bed. In the past week she has napped twice out of sheer exhaustion and she has been taking upwards of 3+ hours per night to get down. The last hour or so is always a total screaming hysterical meltdown. It's totally awful and I've been meaning to post something more interesting than the horror that is her sleep habits lately, but the scattered handful of brain cells that have managed to survive this beastly past week are too depressed to write blog posts.
The sad part is that we brought it on ourselves. We 'broke' the nap (her pacifier). We had hoped that she would slowly let go of her need for the nap but it seems that she has been getting more and more dependent upon it. The entire household would come to a standstill if we couldn't find it when it was bedtime, she'd get all agitated and amped up trying to find it and it would take a million years to get her down, etc. Plus, she developed this nasty rash around her mouth where the nap touches.
We felt just taking it away from her was too harsh so we cut a hole in the end of it. We went to bed as usual and she popped her nap in her mouth, gave it a couple of sucks, and then pulled it out to inspect. She was utterly perplexed and we had a hard time trying not to laugh at her obvious confusion. We told her that it seemed to have broken and she told us to fix it. Then she wanted to get some tape to fix it. We taped it up and she held it for a while and we told the story of the little Ronin-fish who had a nap once when she was a little baby but then she got older and turned two and the nap broke and it was time to try to sleep without the nap but it was okay because she didn't need it anymore, etc. And she seemed okay with it really. She was a little upset right at first when we said we couldn't fix it (though we tried with tape) but she didn't cry specifically for the nap after that. We put it under her pillow; she takes it out every once and a while and adjusts the tape, then puts it back.
The problem is that she doesn't know how to sleep without it. Now that the nap is no more, what little interest she had in sleeping vanished. She just can't figure out how to go to sleep without passing out from exhaustion, usually after screaming herself hoarse. It's awful and I can't figure out if we should get her another pacifier or if at this point, she'll never revert to the far better sleep situation we had previously. It's funny too because if you had told me then that our sleep situation was 'far better' than some other possible sleep situation, I would have laughed incredulously. Or killed myself.
[Toddler whose life is ruined because her cruel cruel parents broke her nap.]