October 11th, 2009 by: cheyenne
Gipsea, Tucker's trawler is a little 30-foot thing but has about 50 times the interior volume of the Time Machine. Not only is there standing head room in all parts of the boat, there is refrigeration, a proper marine head, hot water, a SHOWER… It's mind boggling really to take a hot shower on the boat. It is a great little boat. It is, however, a diesel boat that moves by way of a large noisy motor. When we shut the motor off for the day after anchoring, I always feel my body relax, unaware that I had been sort of tense the whole time the motor was on. I don't know if it's because of the noise or just because motoring on the Time Machine was often under duress and it always stressed me out a little to run the thing.
Ronin is handling the boat life well. We go to shore every day at least and give her some time to run around on the beach and she loves that. This is not ocean sailing by any stretch and the water is flat calm always, with the exception of wakes. She hasn't even had to adapt to a rolling motion. We did get into a large lake right as some thunderstorms blew through. A captain of a tug going the opposite direction on the river told us, "it's rougher than a cob there in the bay," and frankly, we weren't sure what to expect. We had some chop and whitecaps and the radio mentioned tornado warnings (!!) but we found a little inlet to anchor up in and we waited out the storm drinking coffee spiked with rum. Now we are in the Tenn-Tom waterway in northern Mississippi, heading south. It's very narrow but sort of boring; once we hook up with the Tombigbee river, it will get interesting again.
It was rainy and cool for the first few days after we arrived but it cleared up on the third day. Naturally, I bemoan the lack of beautiful weather but then gripe about having to wear sunscreen when the sun actually comes out. I am hard to please. It's back to being rainy and overcast and today is actually rather cold. We're heading steadily south though so presumably it should warm up again and I can bitch about something new.
Ronin napping in the V-berth; I block the edge of the bed with suitcases so she doesn't roll off. I've tried desperately (in vain, probably) to keep her on Oregon time but I think Ronin runs on a 23.5-hour clock. She always wants to get up earlier and nap/go to bed earlier. Lately, she has been getting up at 6am before it is even light outside, demanding juice, bunny grahams, and her table (a little teak folding table that serves as her activity headquarters here on the boat) before calming down, accepting her nap back, and settling down to sleep a little more. Of course, she refuses to go back down on her own bed and instead, insists upon wedging herself up into my armpit. She usually goes back to sleep for another hour or so but I don't usually get much more sleep. I don't know if this is a bad precedent to make; she has never before slept with us. She never liked to cuddle and could never lie still, preferring instead to roll around and kick me in the boobs.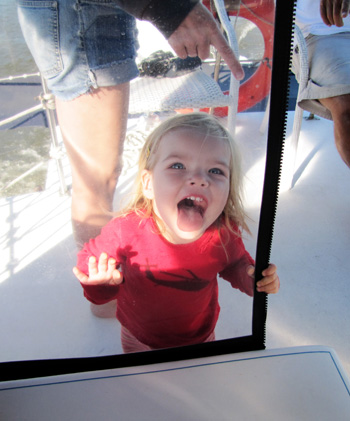 Much of our time underway is spent upstairs in the pilot house, which has a fully-enclosed little room and the best view on the boat. We wrapped the rails of the back deck with rope to create something of a net but it's less stressful if she stays inside the enclosure.
She likes to sit up on the counter in the pilot house and try to push buttons when we're not looking.
Nigel likes to be wherever Ronin is.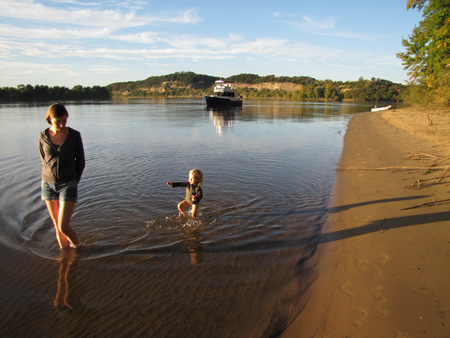 A particularly awesome anchorage. We got ashore just as the sun was setting behind the trees and everything was a beautiful golden color.
Cypress tree.