October 22nd, 2006 by: cheyenne
Pulling into Santa Elena after the trip down the coast from El Salvador was like pulling into some kind of primordial jungle. A storm was fussing around overhead and the sky turning blue and black; a mist was descending down the valleys of the mountains. Dense jungle covered the steep hills surrounding the bay and Tarzan vines hung down over the reflective water. The jungle trees were of many different varieties so the hills looked like a mosaic of different leaf textures and shades of deep green. Pelicans sat in the trees only 100 feet from where we dropped anchor, and macaws, ospreys, vultures, egrets, and herons, among others flew around. We could hear bird calls from all around us—particularly the macaws and ospreys; ospreys have a sweet and delicate cry whereas macaws natter ceaselessly like a gaggle of toothless old chain-smokers. There are no towns nearby and the only road that comes near the bay is a rough dirt track with weeds growing up in the middle.
A couple hours before we managed to catch an enormous sierra and I set out immediately to turn a portion of it into ceviche while Joshua and Jeff wandered around the boat putting things away and looking at the scenery. As we pulled in, we were surprised to see our friends from Lotus—the ones who entered the bar of Bahia del Sol the same day we did, infamously running aground. When the ceviche was ready, Jerry and Joni rowed over with beer and rum and we had a ceviche and Santa Elena party. They had also only just arrived, a few hours before us.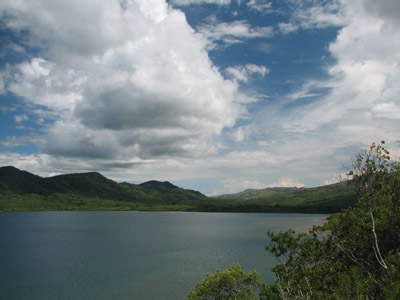 [View of the bay from our hike.]
The next day we moved the boat to the other side of the bay to anchor near a clearing that led to the dirt road. We had heard from another cruiser in Nicaragua that one can follow the road past three washes, then turn up the wash to find a waterfall with a glittering freshwater pool for swimming. We set out in pursuit, not without a little apprehension on my part after having heard stories about the proliferation of poisonous snakes in the region. Of the two people I know who have visited the bay, both reported very close encounters with the dreaded fer-de-lance, a snake that is large (aren't they all), highly territorial, and deadly poisonous. An uncomfortable combination of characteristics, in my opinion and I dug my hiking boots out of deep storage for the occasion. Not knowing which direction the three washes were, we guessed and turned right, walking for a few kilometers before passing three very obvious large washes yet countless smaller, could-possibly-be-construed-as-washes washes. Jeff gave up and wandered back toward the dinghy and Joshua and I decided to wander up one of them for a little ways to see if it panned out. None of the washes we had passed had any sign of recent water in them, but after a half kilometer or so up this one, water just appeared and ran down the streambed—more of the modest trickle variety, not exactly a waterfall—and a few hundred meters farther, it disappeared leaving the wash once more a bed of dry rocks and debris. We followed it a little more and then gave up; maybe we were supposed to go left at the road. Who knows. We never saw a fer-de-lance, thank god, but we did see lots of birds, some crawdads (in the bit of stream), and a land tortoise. On our way back across the bay to re-anchor in the lee of the hills it started to rain, a soft steady rain, much like, as Jerry described it, the drizzle in the Pacific Northwest.
We wanted to check out the snorkeling near the mouth of the bay so we decided to pull anchor and move the boat with the idea that it would be more fun and easier to snorkel off the boat with the three of us then it would be from the dinghy. On the way we swung by Lotus to pick up Jerry and Joni. In the middle of the little inlet between 'Tooth rock' and land, we anchored in maybe fifteen feet of water over sand. Although you could see the bottom from the boat, when you were in the water with a snorkel, it was fairly murky with minimal visibility. We mostly just snorkeled to shore, dodging jellyfish, to check out the beach. Joni saw monkeys and we all hobbled over the rocks to see but only were able to catch a glimpse. They were not howlers, but rather some limby, long-tailed variety, and surprisingly large. It was the first time we really had a good beachcombing beach in forever and after a few hours, we had collected enough rocks and shell fragments to sink the boat. We headed back inside the bay and rafted up to Lotus to drink refrigerated beer and hang out after our hard day strolling around in the sun. It is funny to be on someone else's boat with your own boat just a step away. I kept saying things like, "Oh, I'll have to bring such-and-such over sometime to show you," then realizing that I could just go get it right that moment. The power.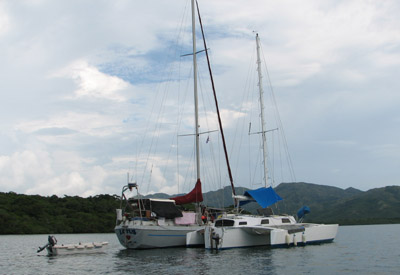 [The raft-up.]
The cruiser who sent us all across the bay and up that third wash in search of a phantom waterfall had also mentioned that the 'town' over in the neighboring Bahia Cuajiniquil had a good grocery store where you could get ice, etc. We were dangerously low on limes after the ceviche and so we headed over to check it out. So far, every day at Santa Elena, it had started to rain late in the day; always a soft steady rain with little wind associated. By the time we anchored and rowed ashore at the town, it started to rain and by the time we got groceries and back to the boat, we were tired and thoroughly wet. There was no wind and we took off back towards Santa Elena motoring. Lucky for us, Joshua had picked up some mini tetra-paks of rompope drink and we set about making some spiked "egg nogs" for the return trip.
[The carnage.]
* * *
After a few days we headed for points south. We irritatingly had wind right on the nose the entire day and a menacing dark sky behind us, probably sucking up the wind we were seeing. We kept thinking it was going to get us but it just sort of spread out everywhere but in front of us and we stayed relatively dry. Going around Punta Blanca, our chart was a little vague. There appeared to be one isolated submerged rock a half mile out and Joshua and Jeff figured we'd just go inside. As we headed around the point the depth sounder suddenly jumped from a depth of around 150 feet to 70 feet, then less and less. I had a flash to that part in Star Wars where the Death Star is pulling in the Millennium Falcon with the tractor beam and Obi Wan says, "Turn the ship around" and everyone else is looking like, "Yes, I think you're right." Jeff at the helm steered hard over and we slooooowly skidded around back the way we came, all of us staring hard at the depth sounder, which pretty much went berserk. At the last moment we saw it read 3.6 feet below the keel. Perhaps we were only reading our own bubbles… All of nursing our own personal heart attacks, we rounded the point an hour later at probably two miles off and in no less than 250 feet. Once we got around Cabo Santa Elena, the wind was out of the West and so we anchored in the lee of the gorgeous Islas Murcielagos, which look like they could be in Ireland, or maybe Northern Scotland or something—not that I've ever seen either place.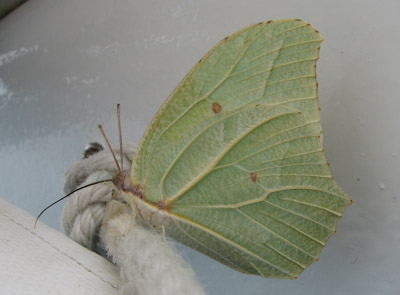 [This innocent leaf was discovered licking the salt off our trampoline as we were heading out of Santa Elena.]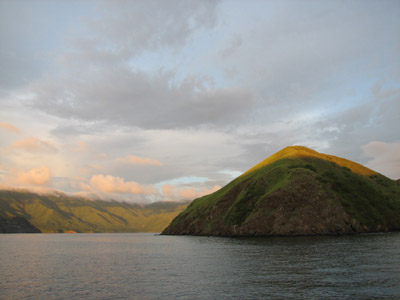 [What did I tell you; Ireland, right?]
The only bad thing about anchoring at Islas Murcielagos is the anchorage is wide open to the papagayo wind direction with a couple of miles of fetch. If a strong papagayo did kick up, it would be very difficult to get out of the anchorage. It was dead calm when we went to sleep, but at around 3am, I popped awake when the wind changed. I'm good at that, waking up when conditions change; one of the few instances where my neurotic nature works well with the sailing life. I poked Joshua awake and within a half hour, when it was clear the wind was not just a random poof from the wrong direction, we pulled anchor and bashed our way out towards the opposite side of the little bay where the wind chop would be less severe. By the time it got light, we decided to just head on south since we had the wind for it (and could see where we were going) and moved on to Bahia Potrero Grande, more famously known as "Ollie's Point," one of the better surf spots in Costa Rica and home to a profusion of caimans, or alligators (crocodiles?).
Anchored, we scouted around for hungry caimans and seeing none, Jeff and I rowed ashore in the kayak while Joshua swam with the boogie board. Once ashore, Jeff promptly armed himself with a stout caiman stick and we poked along the beach picking up shells and seedpods and various debris with which to clutter up the boat. While no caimans or caiman tracks were ever spotted, we did see several turtle nests, a couple of them were clearly created only the night before. Sadly, there were also coyote tracks everywhere and one of the fresh nests had already been utterly raided—leathery broken turtle eggs, the insides still wet, were all over the place.
The Ollie's Point break was really nice—even to a non-surfer like me—it folded perfectly over and then kept curling for a long time as it followed down the beach. Joshua headed out to surf for a bit. As he bobbed around waiting for a good set, two pangas came roaring into the bay and unloaded five surfers apiece; it turns out they came from El Coco and had paid $200 for the panga to come surf Ollie's Point. Now that it was crowded, we headed back to the boat and out to cross the Gulfo de Papagayo.
The gulf is somewhat notorious in that the papagayo winds can be insanely strong and are hard to predict. Previously I had imagined it like a baby Tehuantepec, where you keep 'one foot on the beach' and zing across from one safe spot to the other. However, the winds affect a far wider region than just the Gulfo de Papagayo, which is only a few miles across. We had likely been experiencing papagayo winds since the northern border of Nicaragua (those strong offshore winds). This time we had a steady onshore wind coming from the southwest and we cut straight across the gulf with no problems. We arrived and anchored in Bahia Huevos right as the sun set.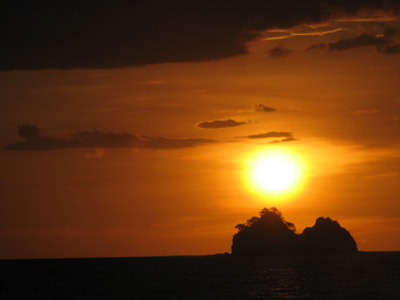 [The loot.]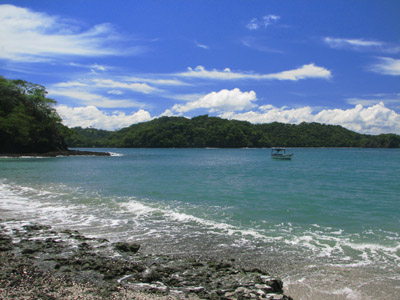 We could hear howler monkeys from the anchorage, although we could not locate them with the binoculars from the boat.
At the head of Bahia Huevos is an estuary. The three of us motored the dinghy up at high tide and then drifted back down. We saw a lot of birds and I think some coatis, a sort of raccoon-like animal with a long snout, but again, no caimans.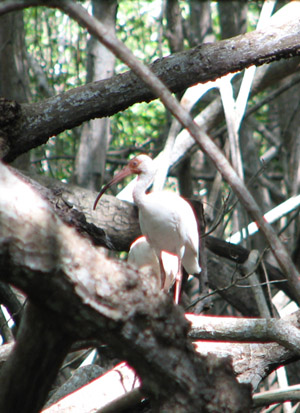 [Some cool birds that make a loud honking sound.]
The next day we headed around the corner into Bahia Culebra (bay of snakes!) to wait for Monday, when the Port Captain's office in El Coco would be open.