October 11th, 2008 by: cheyenne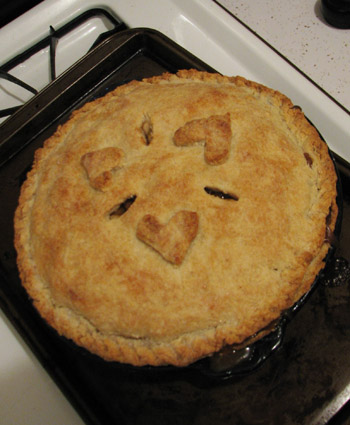 About three weeks ago, we went to Eugene to raid Joshua's mom's apple trees (and her plum tree, and her baby pear tree which yielded four delicious pears, and her rhubarb, and the volunteer basil, and the local blackberry bushes, etc.) and we returned with probably fifty pounds of produce. I washed and froze six quarts of berries, a couple quarts of plum/rhubarb pie filling, and so far, three quarts of apple pie filling. We still probably have 20 pounds to go.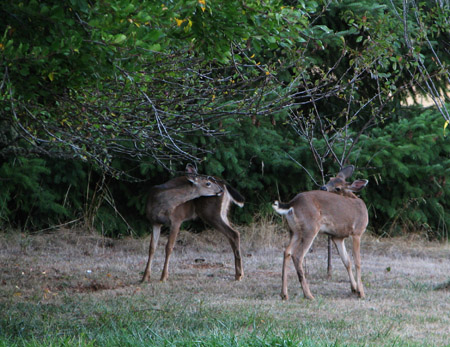 [Deer hanging out under the plum tree.]
We have been making a lot of apple pies and here's the recipe I've been using. I tend to prefer a spice-rich pie.
APPLE PIE
Crust (this makes a full top and bottom crust):
* 2.5 cups flour.
* 1 teaspoon salt.
* 2-3 tablespoons sugar.
* 1/4 teaspoon mace.
* 2 sticks butter.
Cut the butter into the flour mix (quickly), ball into two blobs and wrap them as flattened discs (quick! quick!) and get them into the refrigerator for an hour. Once I was lax on the speed and only refrigerated them for maybe 4 or 5 minutes. I was not in a pie waiting mood. The pie was good but the crust was a little tougher than usual.
Filling:
* Lot of apples. Enough for a pie.
* 1/2 cup sugar–half white, half brown (the recipe I looked at originally said one full cup, which seemed excessive and I made the first pie with maybe 3/4 cup total. It was too sweet and even 1/2 cup is maybe excessive depending upon how tart your apples are).
* 1/4 cup flour
* 1 teaspoon cinnamon
* 1/2 teaspoon nutmeg
* 1/4 teaspoon each allspice, cloves, and mace
* 1/2 teaspoon lemon zest
* 3 tablespoons lemon juice
Mix it all together until apples are coated. Some prefer to precook the apples first in order to avoid the gap under the top pie shell or to make the pectin do something to the apple which helps it hold its shape when baking (I read something somewhere once…). Whatev. Doesn't matter if you do or don't.
Has it been an hour yet? Get one of the pie crusts out of the fridge! Roll it out and plop it into the bottom of the pie pan, load with the apples and stick back in the fridge. Now roll out the top part of the crust and stick it over the pie. Crimp edges decoratively, cut holes in the top, decorate as usual, brush with milk or egg whites, sprinkle with sugar and cinnamon, etc. Whatever you do.
Bake in the oven at 400 for 1/2 hour, then turn it down to 350 for an additional 40 minutes. My oven is tweaky–as a matter of fact, I've NEVER had an oven that worked properly–and so I have to do a lot of checking toward the end.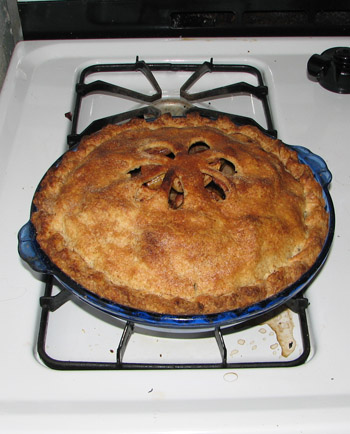 [Perhaps a little overdone; I did not precook the filling in this one and had a gap under the crust.]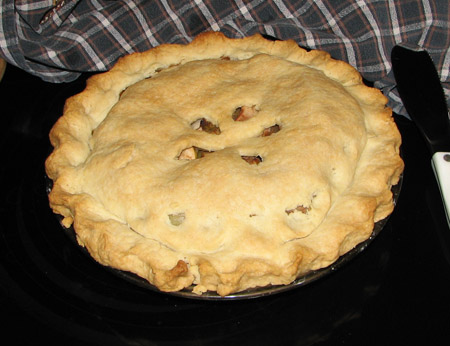 [More pie! This one possibly a tad underdone but no less tasty.]