August 11th, 2008 by: cheyenne
It would seem that six months marks a trying time for helpless babies and their bleary-eyed counterparts. I'm talking about everyone's favorite topic: sleep. Sleep and Ronin are at odds lately. Sleep and Ronin have a on-again, off-again relationship and this relationship is on the rocks. Sleep and Ronin = LAME for EVERYONE.
(Me = cranky.)
There is a lot of advice out there regarding how to get your baby to sleep. Everyone is a baby-whisperer. I think the sleep advisers are more prolific than the how-to-be-pregnant people. At any rate, one bit of advice was to introduce a "lovey," or some sort of item to be loved up/devoured by mucous alone (stuffed critter, blanket, paper bag, wire whisk, etc.). I decided a stuffed critter was the element missing from my child's sleep psyche.
NO MORE! BEHOLD: "Ay-dah!" (Ronin named her.)
God isn't that the cutest thing? I totally stole the idea from some crafty type and made my own version out of some of some of those fabric scraps I've got on hand, one of my pregnant sweaters that is now too wanged out to wear, and an old Irish flannel shirt I've been carrying around since high school.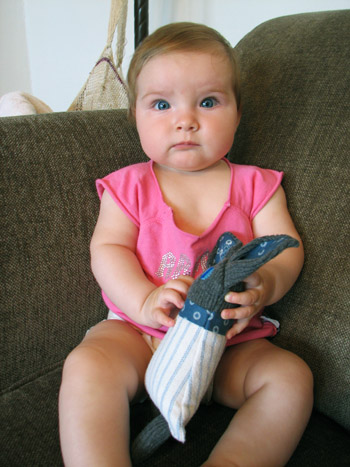 Warning: video somewhat grandparenty.
[flash /images/0808/RoninPlays.flv w=400 h=300 f={autostart=false}]