October 16th, 2007 by: cheyenne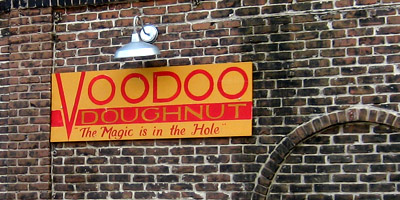 We haven't been out very much since we've arrived in Portland and I have a sneaking suspicion that we might be regretting that in about three months. What usually tends to happen is we'll go out to one of three or four places only–and there have got to be at least forty million great places within walking distance of our apartment. One of the places we seem to frequent a lot lately is, um, a doughnut shop. (It might be the pregnant lady's fault.)
Voodoo Doughnut is a small downtown shop populated by hip tattooed counter folk and sporting a general mayhem behind the counter that makes it look more like a crowded print shop rather than a bakery (except for the smell). Other ways Voodoo Doughnut is not like your average doughnut shop: They have slogans like "good things come in pink boxes!" They have Bacon Maple Bars! Their fryer gives free Swahili classes Monday nights at the shop! They do weddings! They are open 24 hours/day!
We managed to go twice this past week during Michelle's visit because Michelle is a person who can appreciate the culinary finery that is a Bacon Maple Bar.
Since we were driving to Ashland to see a play, we decided a pink box for the road was in order. We got a Bacon Maple Bar—just to be different, an Apple Fritter (pregnant ladies need their vitamin C), a Cock & Balls (triple-cream filled), a Blood-Filled Voodoo Doll, and a Dirty doughnut (with peanut butter and crushed Oreo cookies on top).
Michelle is pleased with the selection.
A sensitive portrait of a half-eaten Voodoo Doll. The inside gore is raspberry. The stake through the heart is a pretzel stick. I'm not sure who ate the right arm.
Sadly we didn't get any photos of the Cock & Balls—it broke apart when handled and was unsuitable for photography.