October 31st, 2007 by: joshua
Washington County, Oregon (800×600)
Hans and I stumbled across these at twilight and ended up crawling through the brush in the dark digging them up by flashlight. We're calling them Boletus aereus (Queen Bolete) even though we discovered them in a thicket of fir trees. Otherwise, it could be some mutant form of Boletus edulis with whitish bloom on the cap. Or it could be an as yet unnamed species. We can tell you they are very yummy and skirt the whole issue by calling them porcini or cep. Common names just don't require the same precision.
The pilot light alone provides just enough heat and air circulation to dry mushrooms perfectly and fill the house with the earthy smell of porcini.
Cheyenne and I went back this morning to make sure we didn't miss any. There were a few, but Hans and I had done pretty well on the first pass.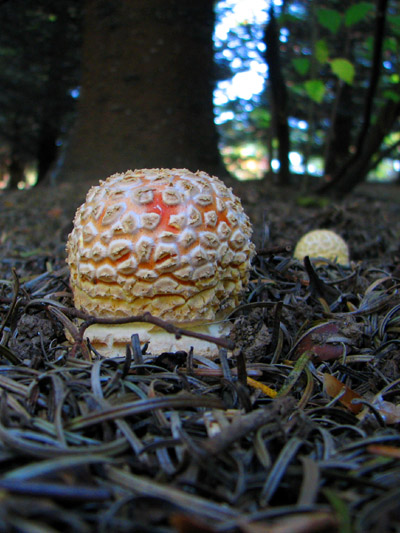 An easy one for the fungal taxonomist (Amanita muscaria).