May 24th, 2007 by: cheyenne
Going out with Panamanians is an experience not for the faint of heart or delicate of taste. Unlike, as a widely flung example, Catalonians, who go out to bars for talking and smoking and can nurse one small glass of beer for two or three hours, Panamanians take their beer drinking seriously and become increasingly agitated the nearer they come to the lower half of the bottle. Every so often, we would meet up with Cousin Tito for a drink or to grab some lunch and inevitably the innocent afternoon would evolve into an all-night Balboa marathon involving at the least four different bars, meeting up with a variety of friends requiring a mind-boggling amount of cell phone coordination, pool, confusion, a multitude of beers, walking back and forth, and finally, 'el arranque,' or last drink.
Then another arranque. Or maybe Tito knows of a different place where we can go for el arranque. Around this time someone remembers that that we forgot to eat dinner and it is already 11pm. El arranque will have to wait because now we are all suddenly ravenous.
The prime hangouts when we are around seem to be Istmo, Panama City's only brew pub—quite possibly Central America's only brew pub (excluding D&D in Honduras). The thing that kills me about this place is that while it is a great place to hang out—comfortably decorated and pub-like with hard stools surrounding little tables or chest-height counters to lean on all over the place, a pool table, stylish copper and stainless casks in which the beer is kept, a nice outdoor patio, and a location on a less busy street; the homemade beer is weird. It's hard to describe because the atmosphere of it all has your mind expecting something wonderful and microbrew-ish and when you finally take a sip, inevitably you make a face and say to yourself, "weird." We're used to it by now and rejoice in the fact that there is a beer available in the country that is not clear lager but that first sip is a real brain-jolter. I really don't know what they got wrong and we have tried all their flavors by now; yet in every single one there is *something* that is just not right. But no matter. Happy hour has half off pitchers so Istmo is where we usually meet.
After Istmo, sometimes we go to El Pavo Real, which is a bar I find reminiscent of a downtown San Francisco local's hangout. We like it; they have food, they have pool tables, they have "Guinness" on tap, the bar tender is friends with Tito and crew so we get a hero's welcome every time we pass through the door, and they have bizarre happy-hour specials (like three-for-one on certain drinks on certain days).
Yesterday we met Tito for lunch, then picked up Aldo, an old friend of Tito's who, bizarrely, is a lawyer, and his two daughters (around ages 9 and 12) and it seemed they were all thinking of heading off to the coast for the weekend but somehow we ended up back at the boat. Tito dropped Aldo, the girls, and me off at the dinghy dock and went with Joshua to pick up some ice and age-appropriate drinks for the kids. The girls were a little apprehensive about the dinghy, "are there sharks here?" was the first question. I told them that sharks were notoriously afraid of small children so they had nothing to fear. They were totally skeptical but mellowed out as soon as we started out for the boat. "Left! Right! RIGHT!" they shouted if I veered off our course by any more than half a degree. Aldo sat in the stern being uncomfortable that he was not doing the rowing but I had learned my lesson after once relinquishing the oars to Tito's friend Terry, who not only nearly overturned the dinghy in the process of switching places but had us spun around backwards and headed for Costa Rica as he flailed with the oars.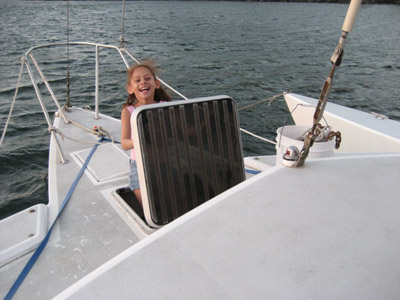 Once they were deposited aboard Time Machine, I rowed over for Joshua and Tito. By the time we got back, the girls were climbing all over the boat, checking out all nooks and peeking in deck hatches. Within minutes they had familiarized themselves with the more obvious passageways of the boat and were repeatedly going in and out of the hatch to the head, which they had walled off with various curtains to create a fort where they amused themselves by pumping the rinsewater into the toilet. Once this grew tiresome, they branched out to the small hatch in the cabin top over the settee, which they could climb through dropping down into the aft cabin, thus opening a whole new world of possibilities. Shortly thereafter, the younger one discovered the air horn and nearly deafened us all when she figured out how to make it go off; we traded out the air horn for the conch shell, and banished them to the forecabin.
[Tito was still suffering from last night's arranque.]
After a little while, cell phones were going off all over the boat; a friend of Aldo's had arrived on the Causeway in addition to friends of Tito's who we had run into earlier downtown. Joshua rowed over to the seawall to fetch Aldo's friend, who is somehow connected with the family who runs the quasi-marina outside of which we are anchored and incidentally a client of Aldo's; he came aboard, introduced himself as "Speedy" and asked us suspiciously what his lawyer was doing on our boat. Aldo responded by heartily downing his current beer and snagging a fresh one. Tito volunteered to row over to pick up his friends and without thinking too much about it, I got him situated in the dinghy and shoved him off in the right direction, forgetting that Tito is a less than accomplished rower (that's putting it mildly). The wind was stiff and had Tito en route to Colombia in no time while he flailed to get the oars under control; finally he got some rhythm going and began to make headway on the seawall, everyone in the boat whistling and jeering cheering him on. Finally he made it to the wall and thus began the epic journey back to the sailboat laden with passengers and six packs. Halfway, there was a mutiny aboard the little bote and Tito's friend seized control of the oars, rowing the remaining distance back. Success! Now we had enough guests aboard to really rage. I don't know if we've had this many people on the boat before but lucky for us, Panamanians can swiftly drink their own weight in beer so any overloading was kept at a manageable level. The kids were now chasing themselves around the perimeter of the boat using the catwalks alongside, dropping into the head hatch whenever they reached the bow, whereupon Joshua would blow the horn down in the cabin at them and they would both scream and pop back up out the hatch for another lap.
The sun went down in a display of pink splendor and camera phones were brandished to record the event. More beer was drunk and you would think I would know all the vocabulary to explain in Spanish how our porta-head works by now but I'm lame and always end up pantomiming and saying "así" a lot. More talk, more beer—it was all a little hazy. Someone accidentally tipped over the cockpit table, sending empty cans and tomato juice flying. "Disastre en el cockpit!" we cried. Paper towels were dispatched and the mess swiftly managed. It was getting late, Aldo was getting drunk, and the kids' athleticisms were winding down as the orange soda wore off. "La arranque!" someone called out.
Two arranques later, it was time to get Aldo and the girls home. Multiple dinghy trips had everyone safely deposited on the seawall (minus Aldo's cell phone which is likely lying on the bottom of the harbor) and vague plans were tossed about to meet up for the REAL arranque at one of the Causeway bars later.
We never did meet back up with them and it was just as well since we were ahead of ourselves by two arranques and needed to take the rest of the night off for a change.