April 27th, 2007 by: cheyenne
[Dressed bird restaurant art from Holbox.]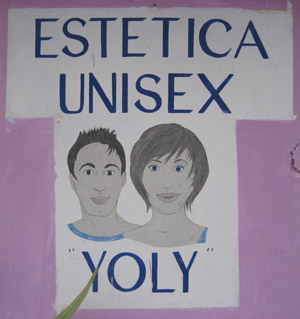 [I should have been taking photos of unisex hair salon art the entire time because there were so many really good ones but, well, next trip.]
Isla Holbox was full of birds I had never seen before, only one species of which we were able to photograph with any success. This successful winner was of course the pink Flamingo, which is an incredibly appealing bird of the color pink. Pink. We went out looking for them specifically after hearing that they were seen in these parts and by god we found them, eventually. Were almost ready to give up too after an hour or so of motoring or rowing around when it was too shallow to row. Finally we beached the bote on a little islet and went in search of horseshoe crab skeletons (we found maybe 12 billion). Then all of a sudden there they were, three of them, in a spot where they were not only a second before. We watched and photographed them for at least an hour.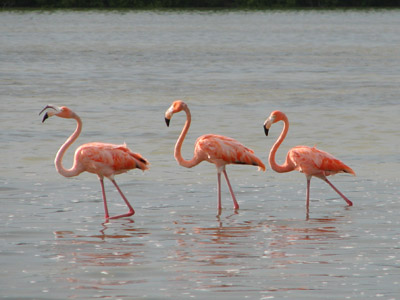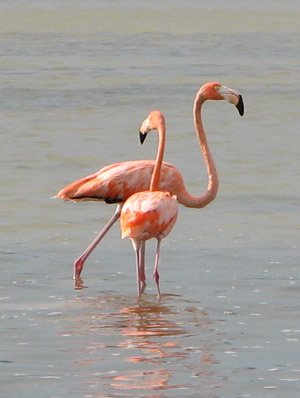 Their beaks have fringy stuff on the inside, and they filter shrimp and other tasty snacks out of the bay sludge. Before they dipped down for a bite, they would do this goofy dance, rocking their knees back and forth and stamping around, presumably churning up the water and the goodies from the bottom.
Among the non photographed are a number of small guys of the "songbird" variety. One, which in my totally non-scientific, non-bird-book having opinion, probably might be called an oriol. It is a beautiful black and bright yellow-orange and it would not hold still for one second. The other cool little bird was a similar sized thing but this time, intense dark turquoise in color. We also saw some white pelicans, the first I've seen on this trip.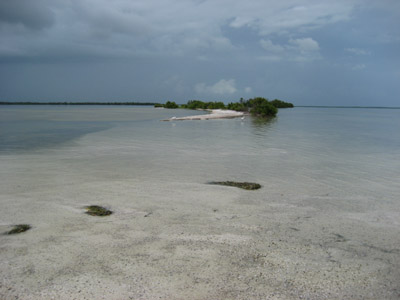 We got back to the boat Friday night and dismantled the bote for the passage to Alacran and across the Gulf of Mexico.