November 13th, 2006 by: cheyenne
We arrived in Bahia Ballena after a lengthy lull in internet activity and I have a number of back-logged posts.
Anyway, we took two overnight trips to get from Playa Tamarindo to the inside of the Nicoya peninsula. The first stretch to Bahia Samara was exceedingly irritating as we were beating up into the wind into a medium-sized swell, with steep wind-chop and a current against us. Night found us dodging rain clouds (a losing battle as there were too many to avoid) and tacking all over the place. Come morning, I swear we were still within eyesight of where we had been the night before when the sun went down. It took us 24 hours to go only around 50 miles and we had reasonable wind the entire time. We were pretty skeptical as to the quality of the anchorages of either Samara or the more popular Carillo because we had a south-southwest swell and wind direction, but we decided to nose into Samara and check things out; if too bouncy, we'd just head on. At low tide, Samara was fine and we stayed the night. Town was cute and packed with German tourists (easily spotted on the beach in their speedos).
As the tide rose and the swell washed over the reefs, the anchorage got bouncy and by the next afternoon, we were feeling very much ready to head on. We left at 4pm in order to time our landing in Bahia Ballena during the morning and set out right into a major rain squall, which happily had the effect of flattening the sea out a little and making the ride easier. The wind was again coming right from where we wanted to go and we again tacked back and forth. Naturally, each tack felt like we would make better directional progress on the other tack and so there was much activity during my watch switching sides, back and forth. Finally the wind died and we bobbled around until I couldn't stand it anymore and started the outboard.
We arrived as planned in the morning to a large, well-protected bay; on the southern side is a small pier where they unload fish daily (so far the catch has been dorado) and two small villages. Across the bay is another small village and on the north side, a small white beach with a wrecked sailboat lying under the palms. We spent the first night over by the pier and then moved over to check out the wrecked boat.
As we neared the beach, we realized that the wrecked boat was a Jim Brown—possibly a 37 or 40-footer—and with one ama completely torn off, it was in pretty bad shape.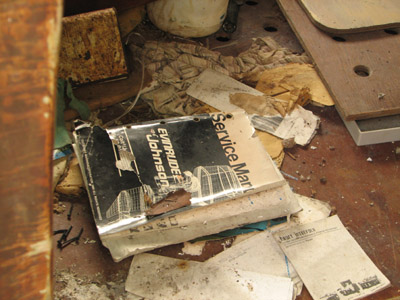 The boat was a total mess with ants crawling all over it and wasp nests dangling from the cabin ceilings. We found molding charts from all over the world and soggy publications dating from the late 70's, addressed to someone in the Physics Department of University of Oregon. We chatted a bit with a local guy on the beach and he said the boat belonged to a guy named 'Heart' who lived just up the hill above the beach.
The name 'Heart' rang a bell; Joshua's dad once told a story about when he was building his Brown 40 in Gold Beach during the late 70s. One day a guy appeared in the doorway of the boat shed; he had long wild hair and a scraggly beard and was dressed in oilskins. Joshua's dad said he looked like some kind of mountain man. The man introduced himself as Heart and had come by because he was also building a Brown 40. He had a bit of land and he started a commune on it; anyone who wanted could come and live there for free, they just had to help him build his boat. Heart had said he was an inventor, made inverters. The next day we went up to the house and discovered that this Heart was indeed the same man, with long white-blond curly hair and a beard. And he remembered Joshua's dad and his boat in Gold Beach.
We found Heart in his office, surrounded by computers and parts and wires and piles of taken-apart inverters. "Oh hey! Let me just get some pants on here!" He told us that they built the boat on a commune near some tiny town in southern Oregon. They constructed it in three pieces since they were considerably inland—the center hull and the two amas—then when they were ready, they rolled them down the hill on logs from their property to a truck where they were moved to the Umpqua River. He then spliced the main strength bulkheads together making the boat one single piece and launched it into the Umpqua. Upon completion, they floated the boat down to the sea and set out around the world with three families aboard. Aboard were he and his wife and their four kids, another family who was pregnant and had a small child, and a third family with a breastfeeding baby. After a few years, they made it as far as Panama and decided to stop for a while in Costa Rica. And he's been here with his family (nine kids in all) ever since. The boat was broken apart in a storm three years ago and he says he has plans to fix it back up but, "you just get to doing different things, you know."
He runs Heart Industries (or whatever it's called) out of Costa Rica, does R&D from his home on Bahia Ballena and he says they have a factory near San Jose. "What kind of inverter you have there on that boat of yours?" he wanted to know. We also met his wife, Honey, and his 17-year old son; their daughter Eden owns the Ballena Bay Yacht Club bar and restaurant across the bay. Honey is responsible for organizing the organic produce market held in the yacht club every Saturday, which sounded absolutely awesome—she went on about the beautiful herbs and vegetables and whole grain fresh breads and goat milk yogurts and homemade cheeses they always have. Oh man, I was decidedly bummed to have missed it.
We left the Heart home and wandered back down the beach to where our kayak was waiting underneath the remaining wing of the rotting tri. It seems odd and sort of sad to see it there and think about how much life went into that boat, both in building it and living and traveling on it. But maybe it isn't, you just get to doing different things and Heart appears to be right where he wants to be, surrounded by his family with the Pleiades resting on the beach in front of his house.