August 24th, 2006 by: cheyenne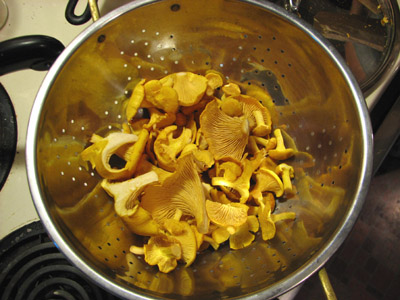 Kurt's mom sent us on a hike off someplace in Maine to a fire tower where the blueberries grow. If we were good little bunnies and didn't eat all the berries, there would be a pie in our future. Kurt was armed with some plastic grocery bags. We parked the car, chatted with the previous hikers ("Absolutely gorgeous! You've been here before right? Such a great day for it!" etc.), and made it about thirty feet into the path before Joshua got his mushroom eyes on and spotted some chanterelles glowing from the forest. Joshua and I turned into raving lunatics and bolted off into the underbrush to collect. The glory of discovery lasted around thirty seconds unfortunately and I had to bolt or be consumed entirely by mosquitoes. I sprinted back to the trail to pace around with Kurt until Joshua emerged, a wild look in his eye. Chanterelles! In Maine! Who knew; it had been so long since we had found the little guys, and this variety was very similar to the variety you find in Oregon rather than in California (a much superior variety in our opinion—petite, fragrant, and clean). We were pretty excited. Kurt and I continued on (we were on a hike, after all) while Joshua darted off the path here and there every time he thought he saw something. And we kept finding more chanterelles; before too long we had amassed almost one plastic vegetable bagful, probably three pounds. We never found any blueberries; I guess it just wasn't the right season.
What to make. What to make…
Answer: Pasta with Chanterelle Cream Sauce.
What you need:
Pasta. We used a sort of large unbent macaroni that wasn't penne. I'd probably choose farfalle if I had to pick one type out of thousands.
Bunch of chanterelles which you picked fresh the same day after going on a lovely hike that had a view but no blueberries.
Olive oil.
Butter. What, did you think this would be a healthy recipe?
Cream. Get a big thing of it just in case. You can always use the remainder to put on coffee or mix with cream soda for a delicious snack.
Chopped pecans.
Garlic. Think sublime; too much garlic tends to overrun chanterelles. You want the garlic smished.
Chervil which you picked fresh from your herb garden. (Oh right! 1. Plant herb garden. 2. Go chanterelle hunting…) Chop it finely.
Salt and pepper. Al gusto.
How to do it:
First, you need to clean the chanterelles. This involves cutting off the ends of the stalks and brushing off the dirt (a paintbrush works if you don't already have one of those froofy mushroom brushes). It is best to not clean them by washing because mushrooms will absorb water like crazy and soggy chanterelles pretty much suck. Use water only in extreme emergency. Also, cut out any weird sections (burrowing insects or slug slime, depending upon how squeamish or protein-hating you are), double-check your species, etc. Then slice into thin sections.
Dry sauté the mushrooms. Chanterelles have a lot of water in them even if you didn't wash them and if you just start cooking with them without releasing some of it, they just end up soggy. Get a dry skillet hot (so water droplets dance around) and toss in the mushrooms. Add a bit of salt to help them release the water if you want. Stir around a bit and pretty soon they will start releasing a shocking amount of yellow liquid. They will also smell really good. Pour off the liquid and reserve and continue stirring them around until they stop releasing water more or less and the rest of the liquid has evaporated. Take mushrooms off burner and set aside. I chopped them finely for our cream sauce (you could leave them in slices or even puree them with some of the cream depending upon what texture you want.)
Put pasta on to boil.
Heat up some oil and butter in the skillet; add garlic and after a moment, add the chopped pecans. Toss these around in the oil until the pecans are a nice toasty consistency (I'm a pecan novice—I just tasted them to see if they were all crunchy and buttery and called it done); don't burn the garlic either. Add the chopped chanterelles and toss around in the butter/pecan/oil/garlic. Now stir in the cream and reserve mushroom broth. We added enough cream to make the sauce look 'right.' (If you are looking for a smoother sauce consistency, you would need to set the pecans aside before adding the mushrooms, puree the sauce, then add them back in last—or sprinkle them on. Or puree them too. Whatever.) We let the sauce simmer very gently for a few minutes then called it done. Adjust the taste with salt and pepper.
Put pasta in your preferred serving bowl and pour sauce over it. Sprinkle chervil on the top to make it look pretty. Lamely, we did not manage to get a photo of the finished product.