August 4th, 2006 by: cheyenne
Now that we're tourists in our own country, we did the Kentucky tourist thing and went bourbon tasting. I love wine tasting and expected something similar but with brick buildings; however, I forgot that we are in the land of the puritans and half the counties in this state are dry counties. That means you can't buy alcohol in them. But the large distilleries can make it and they might give you a taste if you sign a lengthy release form and consent to giving a thumb print and DNA sample.
We first visited Buffalo Trace distillery, which was not in a dry county and therefore did not require us to do anything illegal.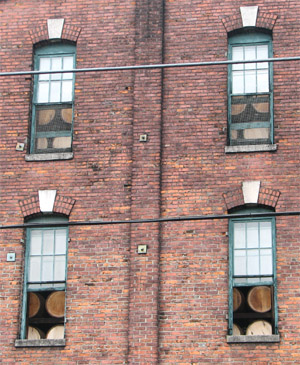 Yup, brick buildings as expected. And inside, BARRELS OF BOURBON. Hot damn! In fact, the very air around us smells like bourbon.
We took a tour, which was for the most part interesting and very informative but started out with an incredibly awful infomercial video thing. The four basic themes were very understated: Free Roaming Buffalo (cue thundering herd footage; slow-mo); Visionary Mountainmen (amiable-looking mustachioed man in coon hat gazes off into the distant plains); Hard Working Pioneers (quaintly outfitted woman sort of bumbles around a large vat, presumably of water); Ghosts of Bourbon Past (slow-mo of ghostly man lovingly patting a bourbon keg and then walking off into the golden light). All of which equal Quality Handcrafted Bourbon. The film was narrated by the same guy who does movie trailers and they recapped the Four Basic Points no less than three times before the movie finally faded into a shining bottle of Buffalo Trace Kentucky Straight Bourbon Whisky, thank god.
Where the bourbon is aged. Depending upon where the barrel is in the warehouse, the bourbon varies in quality; there are 'sweet spots' in the warehouse that produce exceptional bourbon. Another interesting Bourbon Fact is that a significant portion of the alcohol in the barrel evaporates as it ages. So a nine-year bourbon has only 2/3 or 3/4 of the liquid left; after 20 years, only about a quarter of the liquid is left.
We finally got to taste a smidge of the stuff before a huge group of Shriners came along.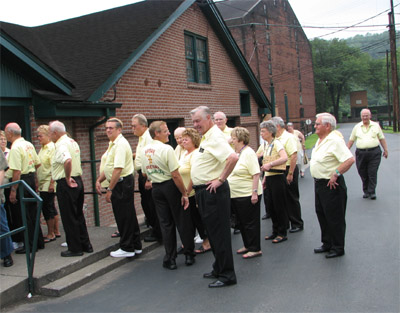 Shriners!!
They all had matching shirts. I don't even know what a Shriner is.