July 17th, 2006 by: cheyenne
A few kilometers from Granada is a private butterfly reserve owned by an American couple who seem to spend the majority of their time in the States working at their respective jobs and living their lives. The reserve is currently populated by a friendly American guy named Gene Rooks who is in the process of writing a book about Central American butterflies and has been doing research at the reserve. The other guy we met is Julio (oh jeez I hope I remembered his name right) a Nicaraguan naturalist/butterfly expert who seems to be the main caretaker of the place. There are a few other caretakers/workers around but that's pretty much it. The place is incredibly low key and quiet; perhaps sometimes they get students who visit for a time to do research but very infrequently; in reality, the place is relatively new, not in any of the guide books, lacking in a lot of equipment that might make it a more 'first class' research destination (like a well, for instance; currently they haul all their own water), and the owners have spent only their own money creating the place (no grants, government or university funding that I am aware of). Anyway, they have a lovely peaceful property, shady with huge trees full of orchids, gardens planted with butterfly-attracting flowers, and a netted-in butterfly garden populated by a freaking ton of butterflies. I pretty much went nuts.
Here are some photos we took inside the netted garden.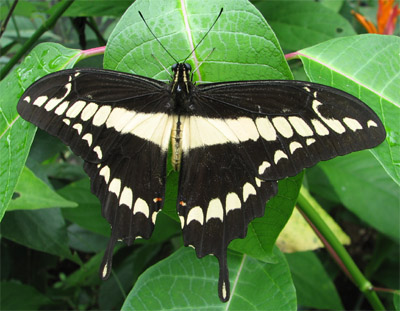 Owl butterfly (I unfortunately forgot most the names since they were given to me in Spanish). When we entered the enclosure, Julio seized this butterfly (they are very large and don't move fast) and to our surprise completely manhandled it while he showed us the parts of the body. Then he chucked it back up into the air where it flitted off to find a new place to sit, totally fine if a little indignant.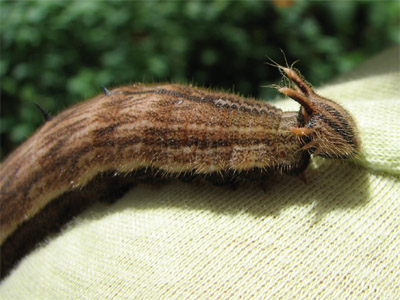 This is the caterpillar for the above butterfly. How cute!! He looks like a little baby dragon slug.
I tried long and hard to get a photo of this guy with the wings open but he would not sit still for a moment. This was the best I could do.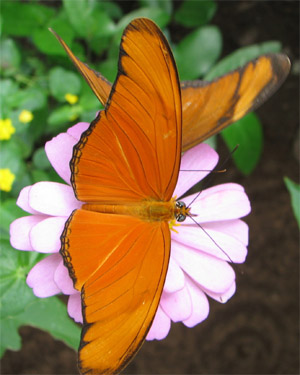 These orange guys were numerous and had cool eyes, whitish with black speckles.
We saw these gray butterflies all over the place in Nicaragua. They were always impossible to photograph even though they tended to settle neatly with their wings open (camouflage on gray tree trunks and the like) because they rarely stopped for more than about five seconds. The males would often sort of 'dogfight' in the air while making surprisingly loud clicking noises.
Monarch!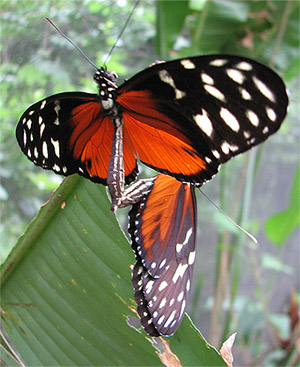 Mating butterflies.
I think this is the caterpillar for the above species.
This guy was hiding under a leaf pretending to be a leaf.
Not a butterfly, obviously, but an orchid. When we arrived, Gene had his camera out to get a photo of this; evidently it completes the bloom cycle in only a couple of days and he wanted to catch it in its prime.
To walk here, pick a day with hopefully some breeze because it is three kilometers down a dirt road from the edge of Granada and hoo boy it can be hot. (Also, bringing some snacks and water wouldn't be a bad idea.) You can get instructions on how to get here from the tourist information center in town and ask people along the way if you start to worry. Presumably you can convince a cab to drive you if you are not feeling up to the walk; be warned that the road is hell on wheeled vehicles. We got lucky and Julio gave us a ride back to town in the Land Cruiser. Entrance with a tour by either Julio or possibly Gene (if you want English and he's around) is $7 US. Kind of pricey relative to what things generally cost in Central America but worth it if you are a butterfly geek and in light of the lack of funds to run the place, consider it a donation.