February 26th, 2006 by: cheyenne
We arrived in Mazatlan on the second day of Carnival, which is supposed to be the biggest party outside of Rio. Lucky us. Approaching in the wee hours, we were actually able to hear Mazatlan before we were able to really see it. The streets were filled with scaffolding and temporary party structures and stages. Daylight hours were spent checking the massive sound systems with whatever nightmarish pop the sound dude had on hand, restocking the thousands of cases of Modelo Especial, and clearing the debris from the night before. As evening approached, the streets along the Malecon were blocked off, souvenir stands set up along the streets lining the free side of the party and sold random crap like kewpie dolls or cowpunk hats, and by around midnight, half that Modelo had been consumed and the town pretty much went apeshit. Food stands sold gorditas (weird fat little pancake/patty/biscuit things), salted nuts, and hot dogs. We were hard pressed to find tacos and this was a shock after La Paz.
We spent a couple of days wandering all over old town Mazatlan and got near the Carnival party when after it was blocked off but didn't really feel like entering. The crowds on the outside were enough and I was not feeling all that optimistic about the selection of live music on the inside based on the crowds of drunk and tarted up teenagers. I guess I'm officially old now.
Here are some photos we took.
We visited Mazatlan once before in 1996. After a long bus ride from Tijuana, we arrived during a torrential downpour; we waded across the street to the nearest hotel (possibly this hotel was called "The Moldy Cockroach") and promptly passed out for several hours. When we came to, it was still pouring but we felt like we should see something of the place so we got our rain gear on and started walking. The wrong way. We ended up in an area called 'dorado beach' or something like that; it's the developed tourist section of town and a long way from the main center of Mazatlan. By the time we got there, we were hungry and there was nowhere to eat except freakish mega-resort restaurants and American fast food chains. We were thoroughly traumatized by the experience and left Mazatlan the next day. We've held the opinion that Mazatlan is a total dive ever since but then we had no idea that we were never really in Mazatlan.
Um, the point of all that was: Behold The Quaint!! Building in Old Town.
As it turns out, downtown Mazatlan is really very nice. The market is large and functional (actually has normal market fare and not just shot glasses and sombreros) and in a cool art nouveau-ish building. Buildings around town were varied and interesting with a lot of colonial, neo-classical, and art deco facades.
There was some cool graffiti in Mazatlan.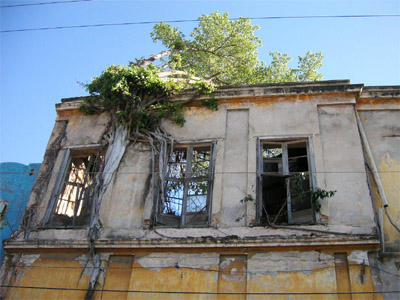 There were also a lot of abandonadas, many of them being consumed by their own gardens.