December 1st, 2005 by: cheyenne
We arrived a few hours after sunset on a moonless night and anchored way out beyond all the other boats and beyond any reasonable rowing distance. Therefore, the first thing we did in the morning was move as close to the beach as possible. The second point of order was obtain the lobster from the lobster fishermen whose movements we'd been carefully tracking all morning through binoculars as they checked their traps in the bay. We waved at one of them as they came in, bought six lobsters from the guy and ended up with seven. Then we went to shore for the inconsequentials, like water and fuel.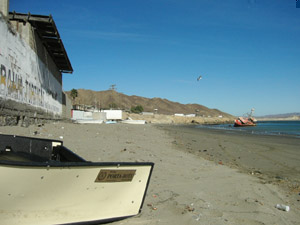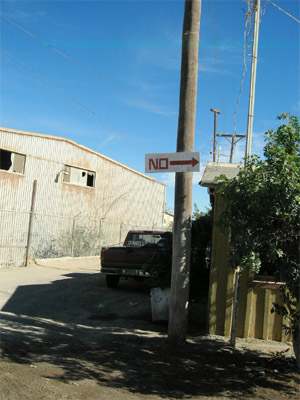 (Makes you want to go that way, doesn't it?)
Turtle Bay is a lovely little place, the first civilization since Ensenada and we were charmed by the derelict vehicles and mangy doggies. We promptly found the dustiest street in town and followed it up to the first of many little random tiendas to get supplies.
We ate lobster for dinner and it was plentiful and excellent. So great, in fact, that we had it again for breakfast the next morning. We stayed at Turtle Bay for two days doing minor chores and provisioning and major sitting around and beer drinking.
After mopping the bilges dry and puzzling over just how the water was getting in (a long story that resulted in several completely hackneyed theories, most of which we've ruled out by now), we then headed out for Bahia Asuncion. The winds were very light and it turned out that we would not end up at Asuncion by any reasonable hour and so we continued on towards Abreojos.