December 20th, 2005 by: cheyenne
So far we've caught a lot of bonito; yesterday however (uh, that was around Dec. 14th), during a gnarly full-day sail in 30+ winds and steep chop, we somehow managed to get a 30-inch amberjack on board. We got into Los Frailes around 8pm but were starving so we cooked up about half the fish for dinner (typical bedtime occurs around 7pm 'cause we're dorks). The other half we saved for breakfast Fish Tacos.
Preparation of the fish (Joshua the master fish flayer expertly sliced the thing into about eight fat filets)
* Mix together some oregano, cumin, and chili powder and sprinkle over the filets
* Dredge the filets in some flour
* Put a couple of tablespoons of olive oil in a frying pan and once hot, add some smished garlic. Let this sizzle for 30 seconds and toss in the fish.
Cook covered until perfectly done, maybe 3 or 4 minutes on each side. While this was going, we started cooking the tortillas.
Tortillas. I don't know how to actually make tortillas but a random package left over from San Diego revealed a shockingly simple ingredient list: flour, water, some sort of fat (lard, vegetable shortening, whatever), and salt.
To make six 8-inch tortillas, use 1 cup flour, two blobs of fat (I used this weird margarine stuff we ended up with from Bahia de los Tortugas), a healthy pinch of salt, and some water. First I mix the flour and salt, then cut in the fat until it is evenly distributed, then add water until the dough is The Right Consistency. The Right Consistency is soft like cookie dough but more bread dough-like; it should go together in a ball very easily and be soft but not too terribly sticky. I kneaded it a bit (I have no idea if this is what you are supposed to do)—maybe 10-15 kneads to a minute or so. Then divide the dough into 6 balls.
** Internet research right before posting yields this possibly crucial step: knead 1-3 minutes, then divide into balls, THEN let the balls rest for 10-45 minutes before rolling out into flats (there are many methods evidently…I haven't tried them yet).**
Now on a floured board, roll out the dough balls into tortillas. I have been using my muddler and trying to ignore the fact that I haven't had a chance to use the muddler yet for mojitos. It works okay for the tortillas though and I keep in mind my mojito moment will come.
When tortillas are ready to go, just pop them on a hot griddle (I use the fantastic flat iron skillet previously mentioned in the Naan "Let's Cooking"). The griddle should be hot enough so that they immediately start to bubble; don't burn them though because, well, duh.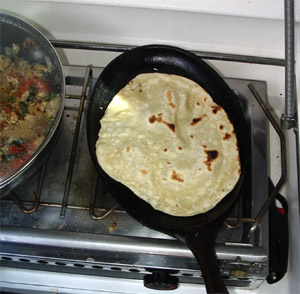 That's it! Put together your tacos with whatever is lying around: pico de gallo, hot sauce, chopped cabbage, avocado.