Monday, October 6th, 2008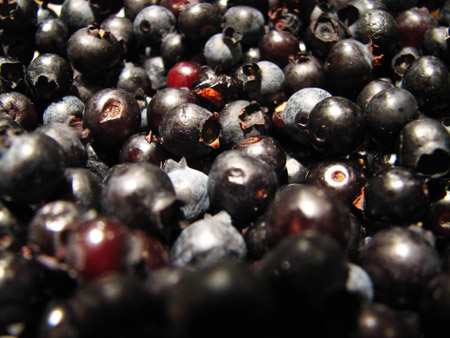 Two years ago, we were in Maine visiting Kurt and Ilana and we went on a hike at Mt. Pisgah looking for blueberries. We found no blueberries but we did find a bunch of chanterelles! So this year, we loaded up the car with paper mushrooming bags, babies, baby gear, baby diapering accouterments, baby snacks, baby toys, baby carriers, and extra baby clothing in case of extreme cold or diaper escapage, and went out on the very same hike with chanterelles as our foraging target. Sadly, after much peeling of eyes and stomping around in the underbrush, we gathered only a handful of soggy, maggoty specimens. We resigned ourselves to a nice hike in the mosquito-rich environment and climbed the fire tower, which incidentally seemed scarier this time around with babies in tow. On our way back to the car via the fire road, we encountered the blueberries! LOTS of blueberries. Our vestigial monkey brains took over from there. We would have gotten more had the mosquitoes not been so gnarly (or the babies so crabby).
Happily, we had just the right amount for a pie. Here's the recipe we used.
WILD BLUEBERRY PIE (adapted from Cooks Illustrated)
Crust: (We made a vodka crust, which turned out great. The crust is important but it's not Thee important part of this pie. Whatever usual crust you like to make will work just fine.)
This vodka crust recipe is standard mostly:
* 2.5c flour
* 1t salt
* 2T sugar
* 1.5 stick butter plus another half cup (1 stick) shortening, which is a lot of butter. Not that I'm complaining.
* Then you add 1/4c ice water, and
* 1/4c vodka (preferably out of the freezer). This makes the dough very malleable and easy to roll out. Divide into two parts, press into two thick discs, and refrigerate at least 45 minutes before using.
Take one half of the pie dough, roll out and fit it into the pie plate. Put it back in the fridge while you prepare the filling.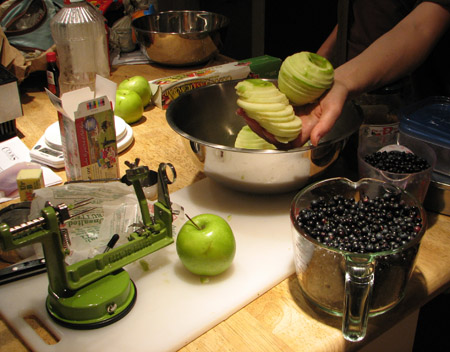 [The goods: seven cups of blueberries, apples, and a spiraling/coring machine.]
FILLING
* 6-7c fresh wild blueberries that you just picked on your hike back from Mt. Pisgah (which is really just a hill)
* 1 apple, peeled and coarsely grated
* 2t grated lemon zest and juice from 1 lemon
* 3/4c sugar
* 2T tapioca flour/starch (you can grind up quick-cooking tapioca in a coffee grinder, etc.). I imagine you could use corn starch if you have no tapioca but be sure to check conversions: corn starch sets up much more robustly than tapioca. You need much less is what I'm saying.
* Pinch salt
* 2T butter, cut into pieces (for on top of the filling)
Take half of the berries and heat on the stovetop (med. heat) until they release their juices, mashing them a bit if necessary. Cook around 8 minutes until the berries have broken down somewhat and thickened. Cool slightly, then mix together with the apple, rest of berries, rest of ingredients. Mix to coat everything evenly.
Remove the crust from the fridge, pour in the filling and put butter bits over the top. Roll out the other half of the pie crust and place over the top. Crimp edges, decorate decoratively, etc. You can brush the top with egg whites (we did I think).
Bake at 400 deg for 30 minutes, then reduce the temperature to 350, baking for an additional 30-40 minutes (until filling is bubbling and the crust is nice and golden).
[Blueberry pie awesomeness.]
We also made an apple rhubarb pie out of rhubarb from the garden. This is an excellent combination. I don't know exactly what we did for the filling but I would imagine some sugar (enough to counter the tartness of the rhubarb), cinnamon, and maybe a bit of flour went in to coat the apples and rhubarb. We used the same vodka crust.