Sunday, June 11th, 2006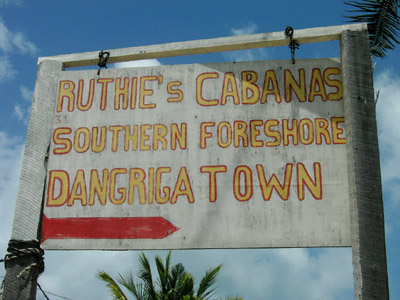 We really really like this town. There's not a whole lot to do here really, except drink and lie around in the sweltering humidity producing giant sweat bullets. We managed this and also we met a couple of Canadians on the boat over from Honduras (Life and Francis) who lived there part time running a kayak tour company. They introduced us to Jack who is building a proa out of a dugout canoe with the intent of sailing to the Pacific via Lago Nicaragua and then up the coast to the north Sea of Cortez. So we had instant friends and drinking buddies upon arrival. Fun for us!
Another thing we liked about this town is the insane friendliness of almost every single inhabitant. Ruthie, who ran the guesthouse where we stayed called us "babies," as in, "okay babies, you just let me know if you need anything;" almost everyone we passed in the street said the equivalent of "hey man, how's it going." And the signage. Nearly all of it is hand painted with often awkward illustrations and anomalous spelling.
I like the "ESTB." part.
I believe this place also had rooms for rent. I'm not sure what the dollar sign is all about.
We heard that the owner of the hotel added the 'no loafers' part because of a good-fer-nothin' son or some such. There was a 'no vendors' sign on the other side with a herb seller set up directly underneath but naturally, I didn't have the camera with me that day.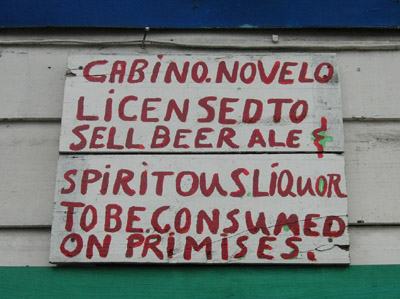 All bars had some variation of the 'spiritous liquors' sign painted outside.
I love this one; look how she illustrated the styles of the blocks she offered. (You can view a larger photo by clicking the image.)
Condoms! Karaoke!!
The latest in oldies!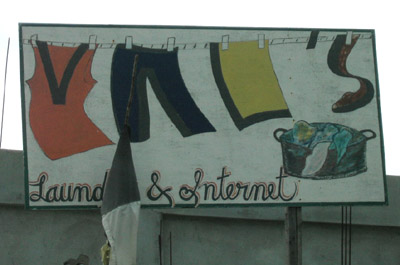 Val's offered cheap lodging in addition to internet and laundry. Dorm-style rooms for $7ish apiece I think.